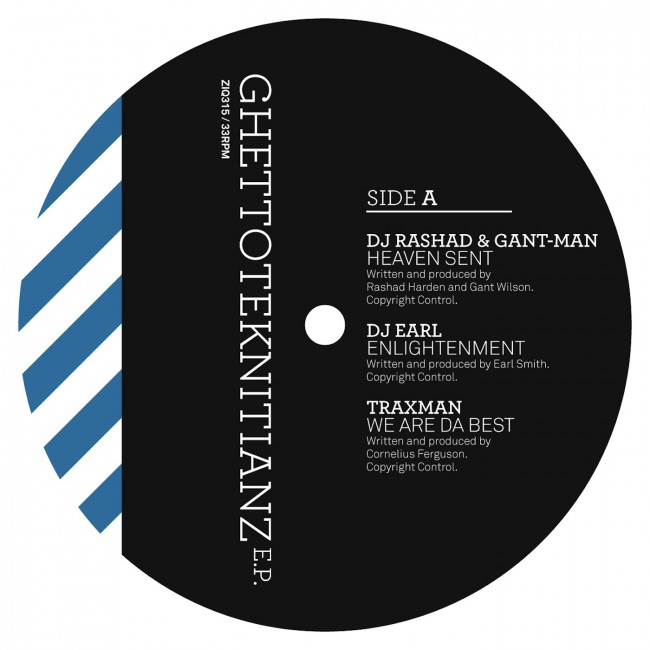 10-10-2011
Various Artists
Ghettoteknitianz E.P.
ZIQ315
The Ghettoteknitianz are a formidable clique of footwork DJs who count Rashad and Spinn (who have previously released EPs on Mu) among their members, as well as veterans such as Traxman, Gant-Man and younger producers like DJ Manny and DJ Earl.
This incredible EP runs a gamut of styles that make clear the connections with house music's past, while pushing things forward into the future in a way that hasn't really been done this clearly in a footwork release before.
DJ Rashad and Gant-Man start by taking things right back on their amazing track 'Heaven Sent' which sounds like it's footwork inspired by P-funk's synth flares and funky worm energy, or DJ Earl's classic bittersweet house strings and synth trumpet fanfare on 'Enlightenment'. Check the reversed acid line and urban hecticness which ride over a tough soca beat on DJ Spinn's 'Don't Shoot', or Rashad and Manny's superb re-definition of their house, using Chuck Robert's legendary 'My House' Speech. Traxman echoes the juke period on his amazing, sparse 'We Are Da Best' with it's boastful, repeated rhyme over snapping, syncopated drums and swirling fretless bass and bleeps. DJ Manny finishes the EP with the straight ahead weed anthem of 'All I Do Is' with it's tight drums wrapped around some repeated vocals and half speed jazz fusion. High quality.
01 DJ Rashad & Gant-Man – Heaven Sent
02 DJ Earl – Enlightenment
03 Traxman – We Are Da Best
04 DJ Rashad & DJ Manny – R House
05 DJ Spinn – Don't Shoot
06 DJ Manny – All I Do Is (Smoke Trees)