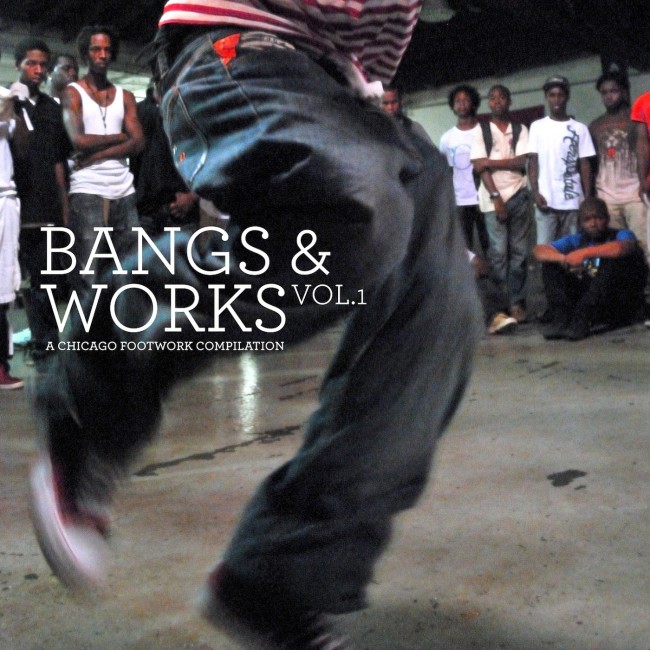 06-12-2010
Various Artists
Bangs & Works Vol.1 (A Chicago Footwork Compilation)
ZIQ290
After releasing albums by DJ Nate and DJ Roc, plus an EP by DJ Rashad, Planet Mu are proud to present their first compilation of music from the competitive world of Chicago's 'footwork' scene.
To those that don't know, 'footwork' is a hyper rhythmic, abstract dance music, pitched around 160bpm, that largely consists of a template of cut-up samples and phrases that are twisted into repetitive rhythms & shapes, to offbeat, syncopated drum machine patterns and pumping sub-bass lines.
Until now, bar a few low key vinyl 12"s and local mix cds plus tracks posted on sites like youtube and imeem, 'footwork' has remained very local to Chicago. Although it's an evolution from the dominant form of house music in Chicago since the mid 90's – 'Juke' or 'Ghetto house', it's a splinter scene you won't hear on local radio. Instead, the scene is based around competitive dances in vacant warehouses, karate gyms and youtube where you will find DJs providing the soundtrack for a circle of spectators surrounding combatants or 'footworkers' battling each other with their legs, using the particular style of high-speed, combat-dancing that Chicago has created in isolation.
The music on this compilation covers a spectrum of the music producers, from RP Boo, whose track 'Baby Come On' in the late 90's is regarded as the first footwork release, to established producers who have come through the Ghetto house scene such as DJ Roc, DJ Spinn, Traxman, DJ Clent and DJ Rashad. To contrast, as well as the established DJs, Planet Mu have picked a number of young producers whose music is less known, and whose exposure has come more through using social networking sites and youtube than through the established networks of the local footworking scene. These producers are DJ Nate, DJ Diamond, DJ Elmoe, Tha Pope, DJ Killa E, DJ Lil Rome, Yung Tellem & DJ Trouble.
Footwork is a utilitarian music, and although the tracks here have around the same tempo, different producers have singular styles. In reflection to the dancing it inspires, the rough, aggressive exterior of the music, with its dark themes and terms of combat, gives way to an incredible gracefulness at times, often combining intricate double-time abstracted drums with lush textures and choppy abstract sounds and a distinct way of salvaging popular music past and present and putting it to good use by cutting it up into futuristic, angular shapes.
First time listeners may find the music bewildering, but the way the music utilizes recognizable features in unrecognizable ways is extraordinary: film themes spread over the top of drums give the music a liquid grace, techno gives it a frantic darkness, hip hop samples at half-speed create futuristic funk templates and freshen up stale breaks and chipmunked r&b samples often give the music a hallucinatory, otherworldly feel.
We're very proud to present this important document.
(Full sleeve notes and artist interviews by blogger and scene archiver Dave Quam).
01 DJ Elmoe – Whea Yo Ghost At, Whea Yo Dead Man
02 DJ Rashad – Teknitian
03 Tha Pope – Jungle Juke
04 DJ Rashad – Itz Not Rite
05 DJ Roc – Fuck Dat
06 RP Boo – Total Darkness
07 DJ Spinn – 2020
08 Tha Pope – All The Things
09 DJ Killa E – Star Wars
10 DJ Roc – One Blood
11 RP Boo – Eraser
12 DJ Lil Rome & DJ Yung Tellem – Kill Da Circle
13 DJ Trouble – Bangs & Works
14 DJ Trouble – Fuck Um Up Jus Basics
15 DJ Elmoe – Yo Shit Fucked Up
16 DJ Yung Tellem – Freddy Vs Jason
17 DJ Trouble – Mosh Pit
18 Traxman – Compute Funk
19 DJ Lil Rome – I Go Hard
20 DJ Diamond – Ready Mother Fucka
21 DJ Diamond – Freakazoid
22 DJ Nate – Ima Dog
23 DJ Clent – I Love You
24 DJ Nate – He Ain't Bout It
25 Traxman – The Comeback