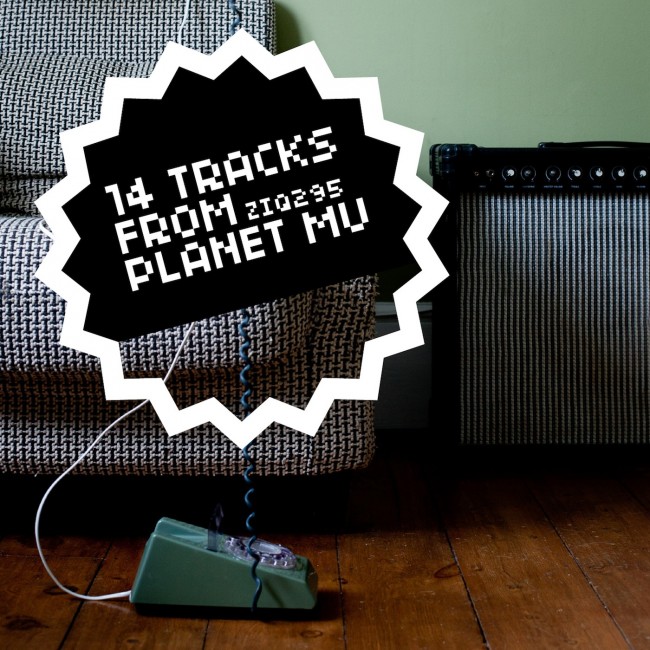 31-01-2011
Various Artists
14 Tracks From Planet Mu
ZIQ295
To mark the start of 2011 Planet Mu release a compilation showcasing their current crop of artists. Featuring 4 exclusives, '14 Tracks From Planet Mu' reveals the depth and quality of their recent releases. Here is a bit about each artist:
Oriol is first up with the exclusive 'Solar' a beautiful shimmering track with many layered vocals. He released his album 'Night and Day' in the summer of 2010 to great praise. The timing was right and the album perfectly reflects Oriol's musical background as a trained musician whose musicality was refreshed by the dance music he grew up with and with its summery mood it was a very timely release.
A duo from Ireland, Solar Bears released their debut album 'She was Coloured in' in late 2010. It was a chilled affair, combining prog-like, melodic instrumentation with warm analogue synths to create an album that straddled comparisons with the best of the modern cosmic disco scene and Boards of Canada simultaneously, garnering alot of attention from the hip press. Here they give us the exclusive 'To Be With Her'.
Floating Points is Sam Shepherd – creator of shimmering, soulful takes on house and techno, who released this, his first single on Planet Mu in 2009.
Tropics is a new artist on Planet Mu who released his first single in late 2010, and is currently working on his debut album. His music is airy, slo-motion house music, a kind of paired down, electronic take on cosmic disco and dream pop, i.e. it's utterly dreamy and beautiful.
The Internal Tulips is a project from Brad Laner and Alex Graham, two Planet Mu veterans who worked on their slowburning 'mislead into a field…' album, where the worlds of late period Beatles and Dennis Wilson's 'Pacific Ocean Blue' pop met delicate digital reconstruction, resulting in an album that was recognisable as pop music but with a strange disorientating modern twist.
Boxcutter is Barry Lynn's longterm project. He's released three popular albums on Planet Mu and his innovative, off-kilter music mixes live instruments and electronics in a way that predates the notion of 'post dubstep'. 'Ufonik' featuring vocals from Brian Greene is an exclusive preview from his forthcoming 2011 album.
Kuedo is Jamie Teasdale, who was one half of dubstep pioneers Vex'd. His new productions are a masterclass in melting dubstep and hip hop down and manipulating something new from the strange goo that's left behind. His productions have been idiosyncratic and daring, pushing dance floors in interesting directions.
Topaz by Ceephax Acid Crew neatly summarises two of Ceephax's greatest strengths. His ability to write complex melodies with the analogue synths he uses to make his music with and combine that with a natural freshness and attitude that counteracts any overwrought retroisms.
Slugabed remixes Starkey and Anneka's delicate 'Stars' track here in his own inimitable style, dicing the original into strange shapes and rubbing it into the dirt, ending up with a multicoloured splatterfest that's like a rollercoaster for your ears.
Falty DL's music has been developing in his New York based musical laboratory over two albums on Planet Mu . His music is indebted to Hip hop and also dubstep's bass and rhythms, but retains at its core, a glossy New York house feel, illustrated perfectly in this track.
Rossi B and Luca are long time djs and producers who've always crossed genres both in their DJ sets and also their productions, and the heavy 'E10 Riddim' shows them melding martial, Funky house-like drums with hard grimey chord stabs, to make one of the most dramatic tracks of 2010.
Swindle is one of a growing group of new producers committed to evolving Grime instrumentals, and Airmiles was an anthem for the new breed in 2010. On 'Airmiles' he mixes grime's tough riddims with an undeniable energy and good humour.
By now anyone with an interest in dance music should know about Ikonika. Her album on Hyperdub in 2010 was one of the finest dance music albums of the year, and her singles have been amazing. This track mixes powerful, nostalgic melodies with hard kicks and clap and pummelling bass.
Rudi Zygaldo's album 'Great Western Laymen' came out in the first half of 2010, a few months before a number of less interesting post dubstep auteurs with vocals started to appear on the scene, but this new and exclusive track shows off his psychedelic, dubstep inflected puzzle-pop off at it's best.
01 Oriol – Solar
02 Solar Bears – To Be With Her
03 Floating Points – K&G Beat
04 Tropics – Give It Up
05 The Internal Tulips – Parasol
06 Boxcutter ft. Brian Greene – Ufonik
07 Kuedo – Starfox
08 Ceephax Acid Crew – Topaz
09 Starkey ft. Anneka – Stars (Slugabed DId A Remix)
10 FaltyDL – Endeavour
11 Rossi B & Luca – E10 Riddim
12 Swindle – Airmiles
13 Ikonika – Dckhdbtch
14 Rudi Zygadlo – Hooray For Captain Balding