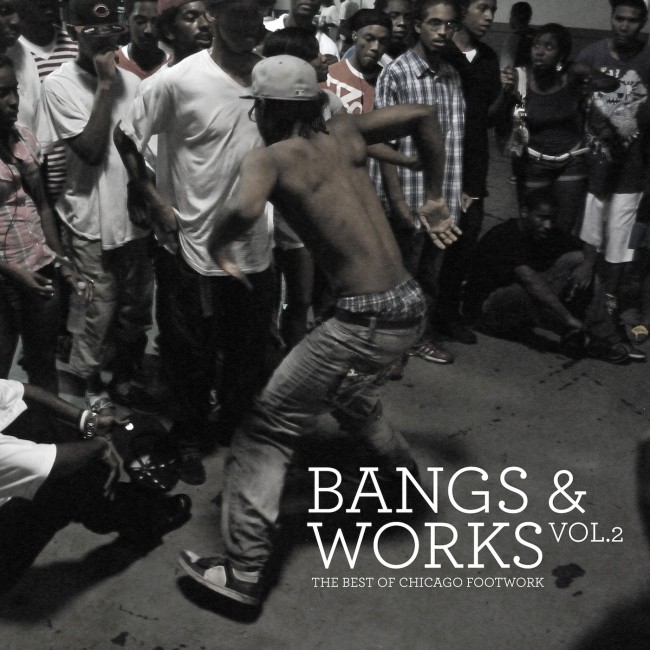 07-11-2011
Various Artists
Bangs & Works Vol.2 (The Best Of Chicago Footwork)
ZIQ310
Last year Planet Mu released 'Bangs & Works Vol.1'. It was a carefully curated, first of its kind compilation of Chicago footwork, a style of music which is possibly some of the most genuinely future-facing, innovative new electronic music on the planet. Simon Reynolds recently noted in an interview for his book Retromania that "one thing I thought was really innovative was all this stuff from Chicago, the footwork stuff…That's one of the few things in recent years that has made my jaw drop a little bit—the Bangs and Works CD that Planet Mu put out. "I put on one of my blogs that Mike Paradinas [who compiled the CD] deserves a knighthood for this, because he went through a lot of stuff and there must have been a lot of quite indifferent material."
Well all of that is pretty much fact, and since the release of that album the attention paid to this little known local scene has increased drastically, so much so that we were able tour DJs Rashad and Spinn plus footwork dancers in the UK and Europe. What's more the music has been adapted for different uses by people outside Chicago, and has influenced new productions not only by Planet Mu artists such as Machinedrum and Kuedo, but by many others as well.
'Bangs & Works Vol.2' brings the focus back onto Chicago's own producers, showing where the real innovation in the scene still lies. The album attempts to show different sides of footwork to Volume 1. Where the first compilation showed off some of the more hallucinatory and leftfield elements, this cd has a wider remit, covering mad techno-style tracks such as DJ Metro's 'Tekno Bangz' or DJ T-Why's immense 'Juice' and 'Finished', to tracks that sound like Musique Concrete gone footwork, like Young Smoke's 'Space Muzik Part 3' or tracks built around long forgotten europop songs, soul and hip hop. Tracks like Traxman's 'Funky Block' and DJ Clent's 'DJ Clent #1' display the obvious influence of flipping samples, Hip hop style to the rhythms of footwork, while DJ Rashad and Gant-Man's amazing 'Heaven Sent' shows the influence of P-funk and Detroit's hi-tech soul. Boylan's 'Bullet Proof Soul' is a tender track of pitched-up and looped soul, giving the album a moment of strange, gentle ambience.
The album features established producers who've come up through the juke and ghetto house scenes such as Rashad, Spinn, Traxman, Roc, Clent and the pioneer of footwork RP Boo, all of whom featured on the last CD, as well as younger producers, who are still making their way. DJ Solo, now a popular R&B producer in Chicago, who pioneered the slowing down and speeding up of samples in footwork is one of the older producers not covered in the first comp, as is Flight Muzik's DJ Metro whose grimey tracks here are culled from a slightly earlier period.
Of the younger producers not featured on the first compilation, there is the talented Jlin who builds all her tracks from sound sources she's made herself; Young Smoke, a teenage producer who is also part of Flight Musik and has a very unique and impressive refinement to his productions; DJ MC, whose track 'Y Fall' has an entrancing minimalism and DJ Rome, an older producer whose 'Showtime' is like a fevered hallucination of pitched horn samples. On Bangs & Works 2, the synapse snapping intensity of footwork is ever present, but this selection shows a widening diversity of approaches to the genre's independent and unique sense of production focus. The music becomes even more impressive and beguiling as you're drawn in.
01 RP Boo – Heavy Heat
02 Jlin – Erotic Heat
03 DJ Earl – Hit Da Bootz
04 DJ Rashad & Gant-Man – Heaven Sent
05 DJ Metro – Burn Dat Boi
06 DJ Clent – Ball'em Up
07 DJ MC – Y Fall
08 DJ Spinn – Crazy 'n' Deranged
09 Traxman – Funky Block
10 DJ Rome – Showtime
11 DJ T-Why – Finished
12 Tha Pope – When You
13 Boylan – Bullet Proof Soul
14 Jlin – Asylum
15 DJ T-Why – Orbits
16 DJ Roc – Get Buck Juice
17 Traxman – Brainwash
18 DJ Clent – DJ Clent #1
19 DJ Metro – Smak My Bitch Up
20 Young Smoke – Space Muzik Pt.3
21 DJ T-Why – Juice
22 DJ Solo – What Have You Done
23 Young Smoke – Psycho War
24 Young Smoke – Wouldn't Get Far
25 DJ Metro – Tekno Bangz
26 RP Boo – Off Da Hook