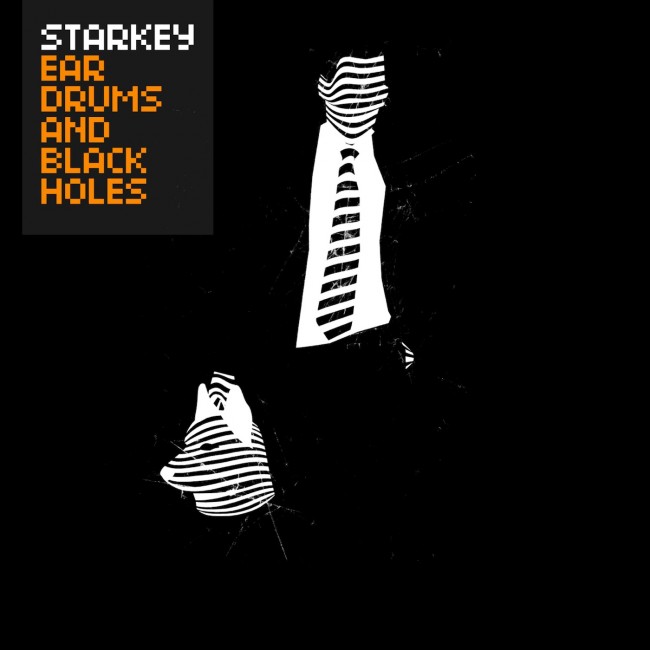 19-04-2010
Ear Drums And Black Holes
ZIQ259
Blessed with skills for musical arrangement that film score composers would be red faced with jealousy about, and a knack of knowing how to make impressively musical, bass-heavy music that works in a club and on the headphones, Starkey's back with his second album for Planet Mu, 'Ear Drums And Black Holes' which takes an incredibly open-ended vision of dubstep and runs with it.
Known as something of a genre cross-pollinator, he's released DJ mixes and tracks on his own Seclusiasis label under the ad-hoc genre title ' Street Bass'. While that description effortlessly covers some of the tracks here, such as 'Murderous Words' feat. Texan MC Cerebral Vortex and the R'n'G style 'Club Games' (again featuring Vortex, this time with Buddy Leezle on the mic), or the heartfelt 'Numb' feat UK Grime MC P-Money, this album only starts from that point, offering up to a whole dimension of new possibllities.
Check Anneka's delightful pop of 'Stars' or 'New Cities' featuring Japanese vocalist Kiki Hitomi which sounds like Yellow Magic Orchestra fast forwarded into the contemporary world and Starkey's own gorgeous vocodered journey into the cosmos 'Alienstyles'.
But all these tracks would be nothing if they didn't hang together beautifully with some of the most epic robo-funk you're likely to hear, from the melodic to the monstrous, these pieces are almost prog-like in their approach to dubstep, wide screen and weightless, until that bass drops.
Then there's 'Capsule' with it's driving bass enveloped by precise melodic chords, or the gorgeous boom-bap intergalactic ride of ' Neck Snap' with it's retroactive echoes of electro-funk, or the twisted synth darkside grimace of 'Fourth Dimension' that combines 8-bit computer game clarity with weird fairground bass and rave breakbeats. These tracks seem to meld together a cosmic synth feel alike to a less overwrought Tangerine Dream with a feel for 'in the pocket' funkiness and incredible compositional skills.
01 OK Luv
02 Murderous Words (ft. Cerebral Vortex)
03 11th Hour
04 Numb (ft. P-Money)
05 Stars (ft. Anneka)
06 Multidial
07 Spacecraft
08 Neck Snap
09 Fourth Dimension
10 Club Games (ft. Cerebral Vortex & Buddy Leezle)
11 Alienstyles
12 Capsule
13 New Cities (ft. Kiki Hitomi)
14 Pleasure Points
15 Fidelio