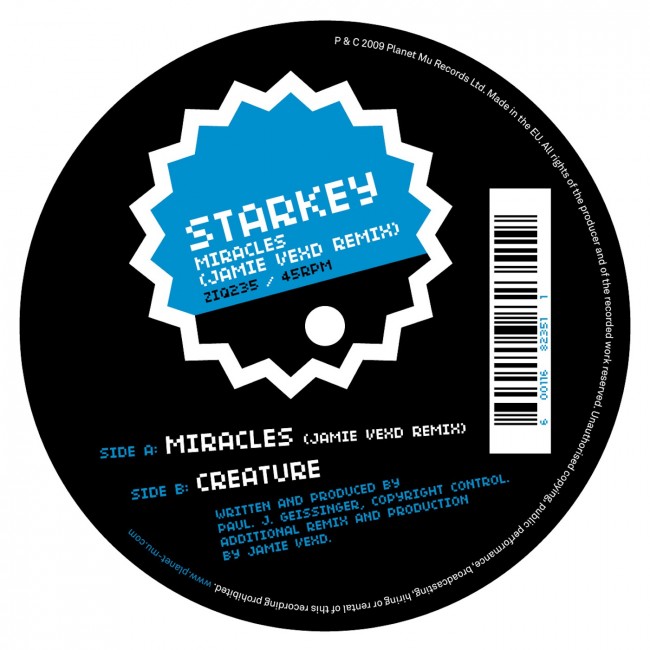 01-06-2009
Miracles (Jamie Vexd Remix)
ZIQ235
Following on from the huge success of his debut album "Ephemeral Exhibits" (Planet Mu), Starkey is back with another absolutely mind-blowing, next-level 12″, ahead of his forthcoming (in-progress) second album on Planet Mu. Philly-based Starkey has seen global success with various European and U.S. dates, a tour of Australia & New Zealand and releases on Lo Dubs, Ruff, Werk Discs & of course Planet Mu. After hearing this it's no surprise why.
The A-side to this 12″ features a huge remix of Ephemeral Exhibits' "Miracles" by Jamie Vexd. Grainy 80's synths and menacing background ambience showcase Jamie's talent for bringing the 'atmosphere you didn't even know it had' out of a tune. Fans of his "In System Travel E.P" will not be disappointed.
"Creature" is the first track to hit the world from Starkey's follow up and is sure to get some serious attention. His custom grimey stuttering bass sound woozes away over sea-sick pitchbending pulsing keys that are more than enough to get your spine tingling.
01 Starkey – Miracles (Jamie Vexd Remix)
02 Starkey – Creature