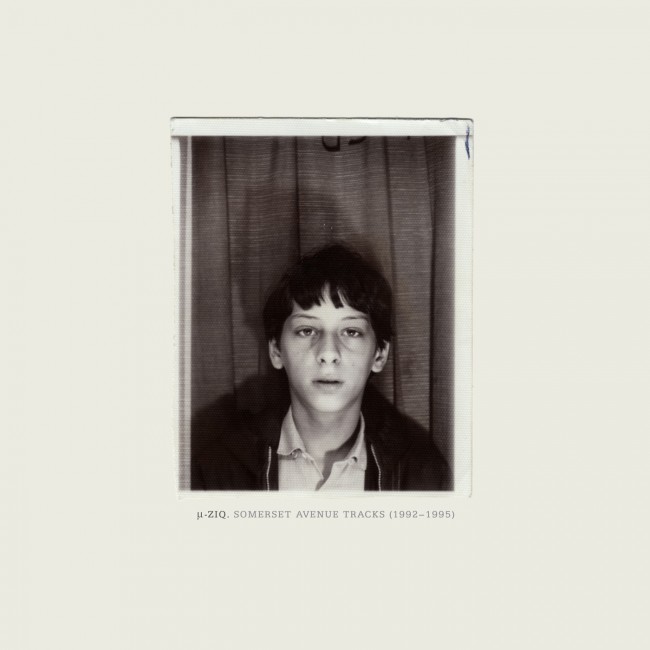 25-02-2013
Somerset Avenue Tracks (1992-1995)
ZIQ300
To celebrate 20 years of µ-Ziq, and Planet Mu's 300th release, Mike Paradinas, owner of Planet Mu has prepared this vinyl only, carefully compiled, limited edition album charting his unreleased productions from the start of his career in the early nineties. Curated by his wife and partner in the band Heterotic, Lara Rix-Martin, the twelve tracks on this double album run the gamut of his various styles from the placid, evocative ambient rhodes of 'Air' to the syncopated industrial techno of 'Toy Gun #2' and lots more inbetween.
The album opens with the woozy yet elegant counterpoint of 1993's 'Jewel Tea' which swiftly descends into distorted HR-16 drum machine chaos. 'Vinxel' switches to a more stately mood with it's woodblock bassline and measured 4/4 pulse keeping pace with one of those patent µ-Ziq melodies you'd swear you've heard somewhere before. Both 'Trail Quest' and 'Spooky Tooth' continue in this melodic vein until the aforementioned 'Air' slows it all down with a much needed breather.
The second half of the album goes into darker territory with the detuned piano of 'Str06' duelling it out with a low-slung hip hop beat. 'Diala' sustains the reverb drenched mood while adding a sweeter edge as a synth line makes an appearance straight out of his 1993 album Tango N'Vectif. 1995's 'Airto' brings some Marimba pierced, dark, cut-up jungle and the album starts to approaching the final stretch with the Peel Session tracks 'Johnson's Q-Fab' and the classic 'Green Lanes'.
Mike Paradinas has also compiled a further 12 track album Somerset Avenue Tracks Volume 2 included as a download card only with this edition.
Dedicated to Neil Jones R.I.P.
Volume 1
01 Jewel Tea
02 Vinxel
03 Trail Quest
04 Toy Gun #2
05 Spooky Tooth
06 Air
07 Pollux
08 Str06
09 Diala
10 Airto
11 Johnson's Q-Fab
12 Green Lanes
Volume 2
01 Toss
02 Boistron
03 Preero
04 Victor's March
05 Ischjgt Mmp
06 Billy Bellsium
07 Boilig
08 Sinc
09 Poc
10 Ropt
11 Oh
12 Melodion