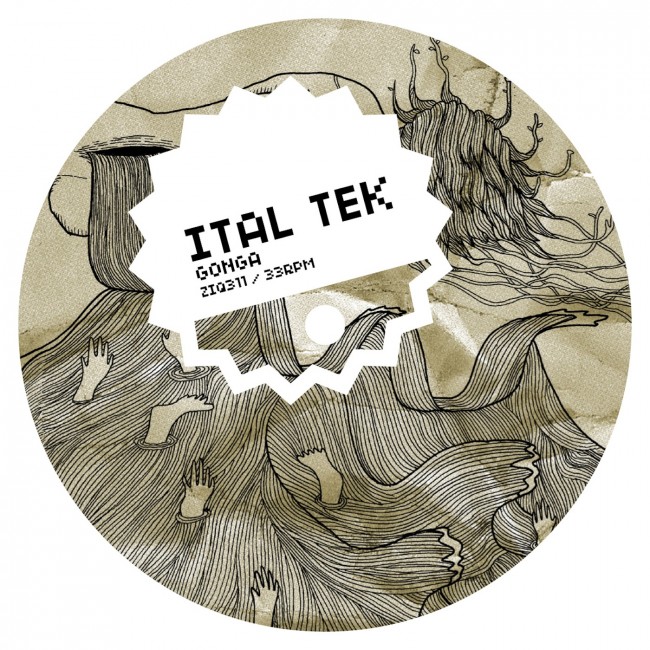 05-12-2011
Gonga
ZIQ311
Ital Tek shows a massive shift in sound on the 'Gonga EP', inspired by the recent spate of footwork and mutant footwork that Planet Mu has been releasing, creating exit strategies from the current virus of the 90s inspired retro house fad.
'Gonga' is an extremely powerful track, rolling out weird, syncopated tabla-style drums over tough dancehall-style rolling kicks and rising clavs, building up a huge vertiginous rush of ascending synth lines that leave you breathless. 'Pixel Haze' uses deep layers of 8-bit synth and lush melodies to create a huge swelling sea over which footwork kicks and basslines roll.
'Cobalt' takes things darker and colder, with a pumping kick drum reminiscent of technoid drum'n'bass. With some of dubstep's elegant spaces, a swelling metallic sound and 808 drums it leaves a dark and oppressive feeling. µ-Ziq's take on 'Gonga' is more minimal than the original, throwing in odd syncopations, diva vocals and a more jungle-inspired drum sound, layering rhythms in syncopated patterns over the pitched-up tabla sound of the original. Altogether a thoughtful and brilliant new sound.
01 Gonga
02 Pixel Haze
03 Cobalt
04 Gonga (µ-Ziq Remix)