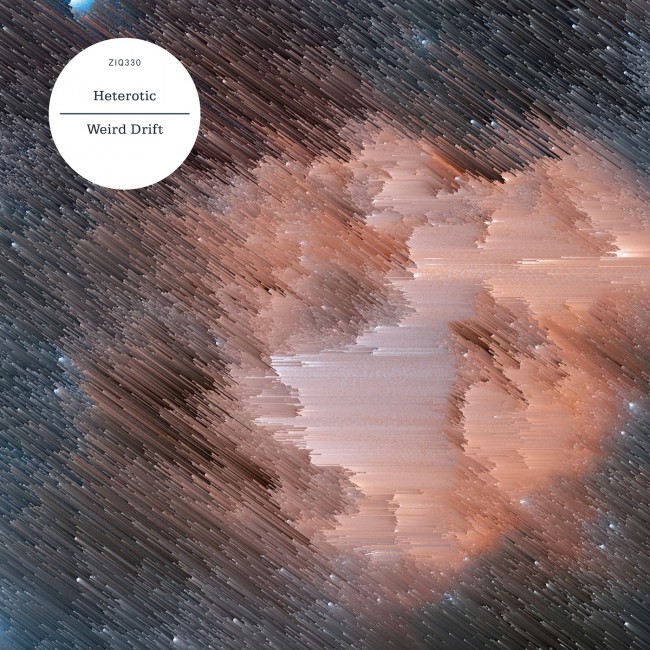 21-04-2014
Weird Drift
ZIQ330
After last year's album 'Love & Devotion' the husband and wife duo of Mike Paradinas and Lara Rix-Martin follow up with 'Weird Drift'. The album shows just how much their ability to write confident and thoughtful pop songs has developed, while still being able to retain the sleepy cushion of steamy synth pop that made the first record so rewarding to listen to.
This time album features the vocals of a Vezelay, a.k.a. French singer and producer Matthieu Le Berre, who brings a gentle poised falsetto to the duo's productions along with a delicate but hopeful angst.
'Weird Drift' has a restrained and varied sense of emotional drama, but also a deeper sense of happiness, or at least the sense of becoming happy that was only hinted at on the first record. This can be heard in the breathy vocal harmonies of ballad 'Rain', in the building arpeggios, open guitar chords and skittering, trappish hi-hats of 'Boxes' or 'Lumber's industrial drum tattoo, it's sad chords set against Matthieu's anxious, delay-smothered vocals. The album switches mood with the nostalgic, dewy Rhodes and recorder of 'Liverpool', acting as a brief impressionistic pallet cleanser before the grinning bounce of 'Sultana', which has the kind of melody (and keyboard solo!) not heard from Mike since his collaboration 'Mike and Rich' with Richard 'Aphex Twin' James.
'Triumph' burns slowly over shimmering arpeggios and sustained bass notes, Vezelay's words softly spelling out scenarios in delicate harmonies. 'Florence' rolls out gentle piano chords and sighing synths while a drum beat smashes out behind them; the dramatic tension between these elements framing Vezelay's meandering falsetto, playing out to their exhilarating strengths.
'Shoe Soul' wraps old school Detroit techno chords and a wonky fretless bassline around Vezelay's swooning voice to woozy, almost sea-sick effect, and the joyful, frayed sleaze of 'Foghorn' could be taken from an episode of The Sweeney, while 'Amniotic' sounds like galloping trap, treated to a relaxing spa. The album ends of the rather epic note of 'Empires', a quietly confident pop song that builds up slowly over a deep piano bassline and pulsing kicks, filling the space between them with feather-light rolling notes slowly building to an epic crescendo of drums, vocals and strings. Drift deeply and enjoy.
01 Self-Importance
02 Rain (ft. Vezelay)
03 Boxes (ft. Vezelay)
04 Lumber (ft. Vezelay)
05 Liverpool
06 Sultana
07 Triumph (ft. Vezelay)
08 Florence (ft. Vezelay)
09 Shoe Soul (ft. Vezelay)
10 Foghorn
11 Amniotic
12 Empires (ft. Vezelay)