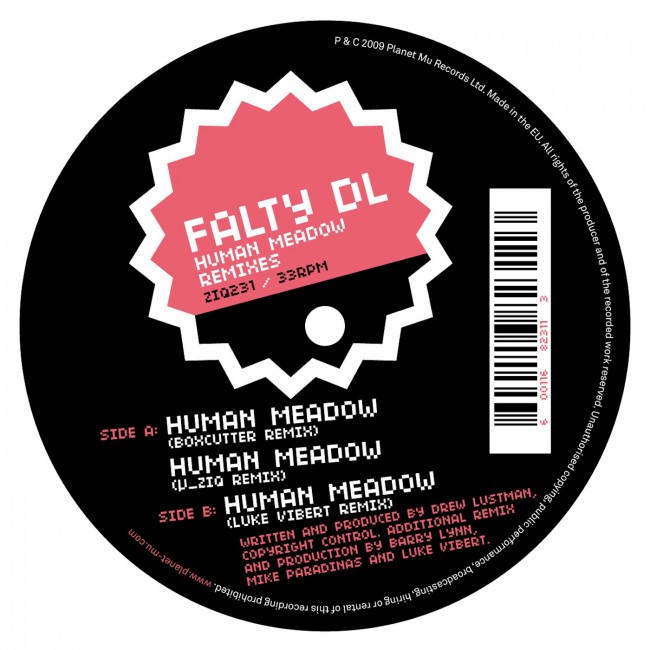 25-05-2009
Human Meadow Remixes
ZIQ231
"Human Meadow" is the stand out track from New York garage/2-step/dubstep/hip hop/electronic artist Falty DL's debut album "Love Is A Liability" and on this remix 12″ he gets the Planet Mu treatment by some of the biggest names on the label.
First to step up to the challenge is Boxcutter. Belfast's Barry Lynn has an impressive discography including four albums on Planet Mu as well as releases on his own Kinnego Records and the Hotflush label. Remixed during the period of writing that led to his new release "Arecibo Message", it has the same lush sound as that album.
Second to take the remix stand is label owner µ-Ziq a.k.a. Mike Paradinas. Half-Spanish Paradinas, who has been releasing 'tunes' since 1993, gets back to writing after a hiatus since his 2007 album Duntisbourne Abbots Soulmate Devastation Technique (which people are just starting to like).
The final mix comes from veteran of Planet Mu Luke Vibert. Luke's discography includes releases on Mo Wax, Ninja Tune, Rephlex and Warp records as well as two albums on Planet Mu (soon to be three).
01 Human Meadow (Boxcutter Remix)
02 Human Meadow (µ-Ziq Remix)
03 Human Meadow (Luke Vibert remix)