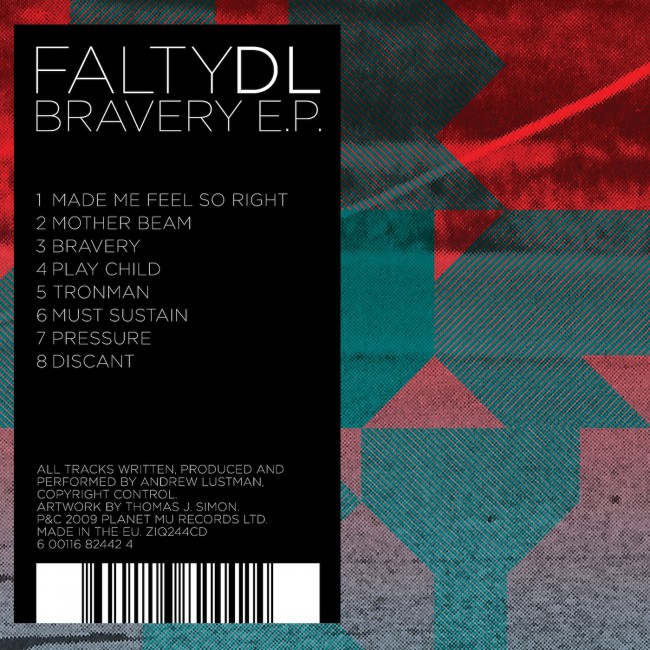 12-10-2009
Bravery E.P.
ZIQ244
Following on from his great June debut album 'Love is a Liability', FaltyDL, aka New York's Drew Lustman weighs in as a heavyweight talent with this incredible new mini L.P.
'Bravery' contrasts quite dramatically with his debut, especially since these eight tracks are brand new, recorded as recently as three months ago.
The album works at different tempos but still impresses with FaltyDL's featherweight combinations of melodic synths, glitzy garage samples and complex programmed beats and effects.
From the first track 'Made me feel so right' as a brash, repeated garage vocal echoes over delicate, plaintive synths and string instrumentation, you know you're in store for something good. Next up 'Mother Beam' opens up with hiccupped vocals, big bass and jazzy chords, into layered hip hop speed drums. By 'Tronman', things are beginning to get much more abstract; melodies hang mid-air while drums form into patterns underneath, the whole track feels weightless.
Just as you're beginning to feel lost in space, the music picks up with the chicken scratch guitar and dubbed out vocals of the up-tempo 'Pressure' which breaks into a complex workout of drums and bass.
The album finishes with the acid and Rhodes of 'Discant', which layers sassy disco orchestration into the mix to dizzying effect.
FaltyDL pushes the envelope in a big way and 'Bravery' is a hugely satisfying release in which you will always find something new with repeat listens.
01 Made Me Feel So Right
02 Mother Beam
03 Bravery
04 Play Child
05 Tronman
06 Must Sustain
07 Pressure
08 Discant