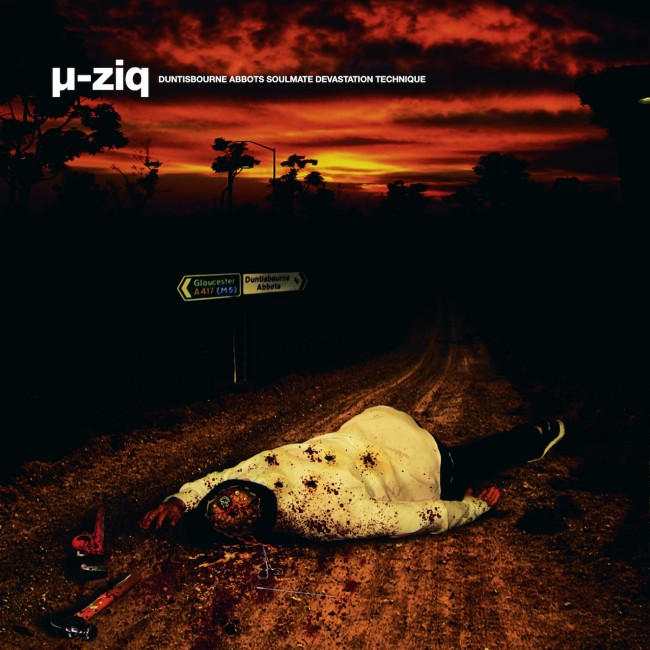 20-08-2007
Duntisbourne Abbots Soulmate Devastation Technique
ZIQ190
µ-Ziq's place in musical history is secure. As a key innovator who to brought electronic music to a wider audience in the nineties, the group, a moniker for Planet Mu founder and head Mike Paradinas, pushed boundaries and rattled heads with a consistent stream of releases, each exploring some new realm of consciousness.
It's been four years since the whirlwind of chaos that was Bilious Paths, and Paradinas' new album a more reflective body of work that is no less as revelatory. More introspective and melancholic, µ-Ziq revisits his roots in the early 90s ambient techno scene pioneered by, among others, The Black Dog, Aphex Twin and himself. Amongst these 17 tracks of off-key melodies, nauseous harmonies and woozy beats can be found gems such as the beautiful "Strawberry Fields Hotel" in which a lone bassline strikes out a refrain of unexpected simplicity while bees swarm overhead around a fig tree. And "Drum Light" where a five
part melody gives way to a startling noise assault. "Acid Steak Night", a collaboration with labelmate The Doubtful Guest, is a more straightforward techno number with 303 basslines warring it out with spooky melodic synth lines. A melodic tour de force, and a welcome return to one of the most vital artists in music today.
01 Prongh Seemness
02 Duntisbourne Abbots
03 Dexedrine Girl
04 Woozy
05 2CV
06 Eggshell
07 Dirtylush Stinkwife
08 Strawberry Fields Hotel
09 Pons Pons
10 Old & Tired
11 Rise Of The Salmon
12 Something Else
13 Insomnia
14 Painshill Park
15 Acid Steak Night
16 Eggshell 2
17 Drum Light