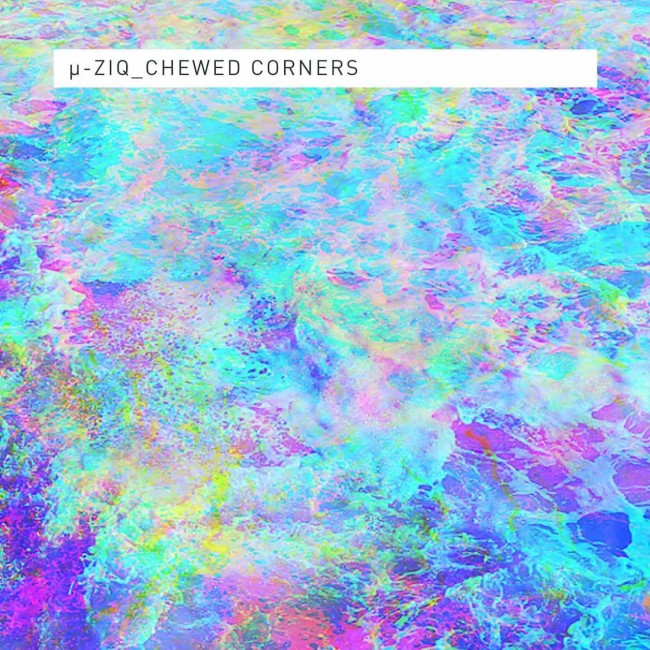 24-06-2013
Chewed Corners
ZIQ333
Mike Paradinas has been a pioneer and a mainstay of the electronic music scene for over 20 years now and 'Chewed Corners' is his first proper solo album since 2007. As the boss of electronic label Planet Mu, he's always been at the forefront of innovations and has released music by some of the most celebrated modern electronic artists around, from Benga, Kuedo and Machinedrum to Luke Vibert, Venetian Snares and FaltyDL, to name just a few. Mike started both his career and µ-Ziq with the album 'Tango N'Vectif' back in 1993 which elevated him to the top of the league of British electronica producers alongside Black Dog and Aphex Twin. He has also been one of the few people to collaborate with Aphex Twin on the album 'Mike & Rich' and has released albums on Virgin, Astralwerks, Warp and Rephlex before releasing music on his own label.
The album was written in the same period as Mike's recent Heterotic project (a collaboration with his wife Lara Rix-Martin and Warp's singer/songwriter Gravenhurst) while he was home alone. Mike says he intended the compositions 'to evoke drama and emotion' and while the music was made with no conscious influences, after listening back, Mike says Kuedo, Aphex Twin, Chicago Footwork, Art of Noise, Orbital, Japan and Rustie must all have had an effect.
While his last album, 2007's 'Duntisbourne Abbots Soulmate Devastation Technique', was at times as harrowing and miserable as its title suggests, 'Chewed Corners' is almost the polar opposite, relaxed, self-possessed, and a pleasure to listen to. When interrogated about the making of the record he simply notes "I'd been writing for a couple of years on and off (starting with the Heterotic material), but one impetus was to get together a new live set for a few gigs I had last year. the main reason was, it was fun to be writing tracks again."
The innovation on 'Chewed Corners' is subtle and inviting, exuding happiness. It also foregrounds probably one of Mike's most important characteristics – something that has always shone through his far-reaching experimentation and kept it sounding both personal and accessible – his knack for great melody and lush arrangements. 'Chewed Corners' sidesteps affiliations to any genre. Instead it's a suite of 14 retro-futurist tracks created with a lush, analogue sounding palette. Even on a track like 'Tickly Flanks, which  nods to the aggressive Chicago footwork sound, which his label Planet Mu has been at the forefront of bringing to to the world in recent releases, it still manages to find a way to breathe light and joy into the framework.
For every woozy moment there's a strong melody that hooks the strangeness in. The seasick chords in 'Wipe' are held together by a building chorus and muscular drum patterns, 'Hug's slow, strange 808 drum patterns and choral synths are underpinned by a lush, warm fretless bass sound. 'Smooch' has meditative, wafting electronics with chords and rhythm that intersect with 80's funk. On 'Christ Dust' he uses synths that wouldn't have been out of place on the 'Equalizer' soundtrack, but with the circadian-like clicking of high hats and swirling synths adding a distinctively otherworldly feel to the track. It's classic µ-Ziq: he has taken stock and allowed the best parts of his abilities to shine through.
01 Taikon
02 Christ Dust
03 Wipe
04 Monyth
05 Twangle Melkas
06 Melting Bas
07 Houzz 10
08 Feeble Minded
09 Hug
10 Mountain Island Boner
11 Tickly Flanks
12 Smooch
13 Gunnar
14 Weakling Paradinas