11-01-2016
Win A Roland Dual VCO Module
We are pleased to announce that Roland Canada has kindly donated a SYSTEM-500 512 module to give away to one lucky winner who pre-orders (or has already pre-ordered) the CD or vinyl of the new Venetian Snares album via our Bandcamp or Planet Mu shop. We have placed a 'Golden Ticket' in one of the bonus track CD sleeves.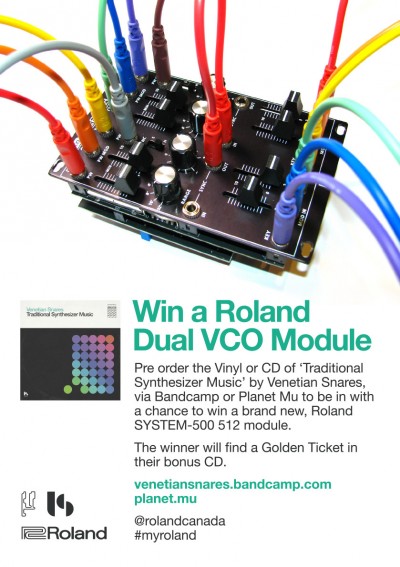 "Based on the classic SYSTEM-100M modular synthesizer, the SYSTEM-500 is a fully analog recreation of one of the most revered electronic instruments of all time. Newly designed in Eurorack format, the SYSTEM-500 delivers the classic character and functionality of the original with the advantages of a modern instrument. Built in the USA and assembled in Japan, the SYSTEM-500 is made to exacting standards with top-quality components and solid controls. And it's surprisingly affordable, turning the fantasy of finally owning this legendary instrument into reality."
For more information visit: http://www.roland.ca/products/system-500_512/
Once again we would like to thank Roland Canada for the prize.