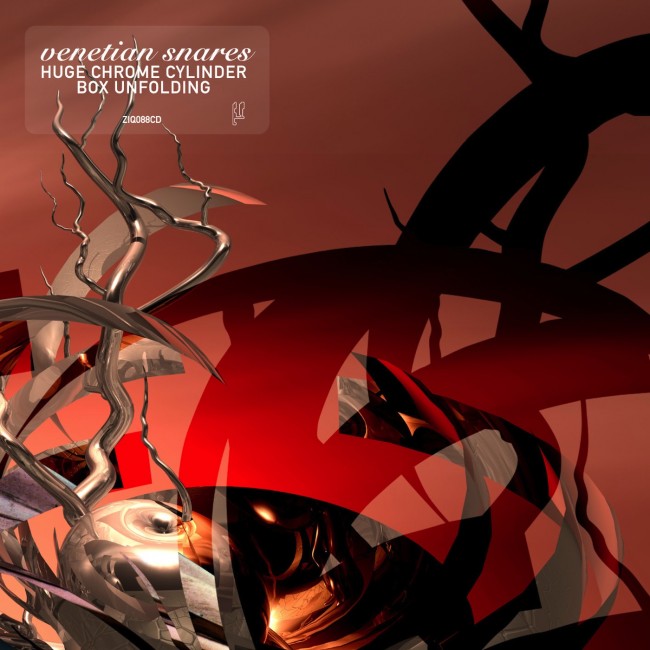 10-05-2004
Huge Chrome Cylinder Box Unfolding
ZIQ088
Huge Chrome Cylinder Box Unfolding is all fizzing, hyperspeed percussion moving over and under one-finger toystore melodies, stop/start rhythms, sudden switchbacks and shifting layers of musical/percussive activity. Every sound appears to contain a toxic quota of synthetic additives, frequently to the exclusion of anything else.
Huge Chrome Cylinder Box Unfolding inhabits an entirely synthetic world, one that's made of numbered polymers rather than atoms. Despite the titles, this music isn't allusive: it is self-contained, seemingly self-perpetuating like a series of virtual mechanisms, elegant sci-fi constructions, the musical envisioning of shifting nano-technological gears. There's something mad-scientist/hare-brained baroque about it.
Huge Chrome Cylinder Box Unfolding is a hypertrophied soundgarden overgrown with dayglo plastic plants twitching towards miscellaneous light sources in photosynthetic spasm, their roots a writhing and constantly reconfiguring chaos. Its title is reminiscent of Duchamp's Nude Descending A Staircase.
01. Huge Chrome Peach
02. Bonivital
03. Cadmium Lung Jacket
04. Vida
05. Coke Ajax
06. Li2CO3
07. Ion Divvy
08. Keek
09. Nineteen1319
10. Destroy Glass Castles
11. Chlorophyll
12. Bent Annick
13. Aaron
14. Bezcitny