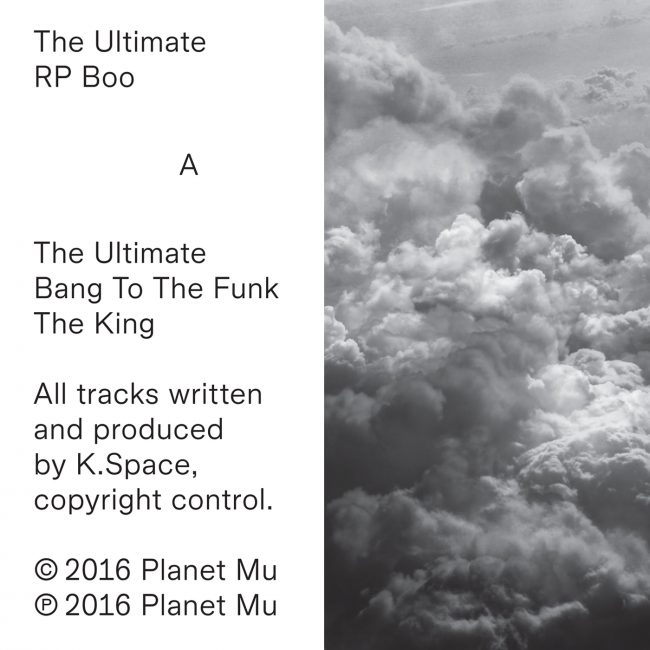 25-11-2016
The Ultimate
ZIQ366
RP Boo returns with 'The Ultimate RP Boo', showing off six brand new cuts that mix a range of styles with his vivid use of samples and improvised drum programming.
'The Ultimate' kicks things off with a sliding synth riff that wouldn't sound out of place on a '91 Prodigy track with cut up rave vocal interjections over Bu's trademark pulsing bass. 'Bang with the Funk' crushes the 1-2-3-4-5 Sesame Street song, chopping its samples into hard shapes. Things turn dark and minimal with 'The King' which features a sample from Fresh, with strange atonal tones playing off against spooky chords and a tactile bass. 
On the flipside 'What Am I?' pairs syncopated snares and 4/4 bass pulses while percussion bangs and shimmers over clipped diva refrains and anxious piano. 'Bu'Moon' meshes together some pumping horn blurts and some old fashioned steamy synth wooshes that wouldn't feel out of place on a 50's sci-fi film into a relentless battle track. 'Electric Energy' finishes the EP, sampling an unusual pop source and chopping them over pulsing half time subs that pitch up and down around slipping and sliding drum hits.
01 The Ultimate
02 Bang To The Funk
03 The King
04 What Am I?
05 Bu'Moon
06 Electric Energy