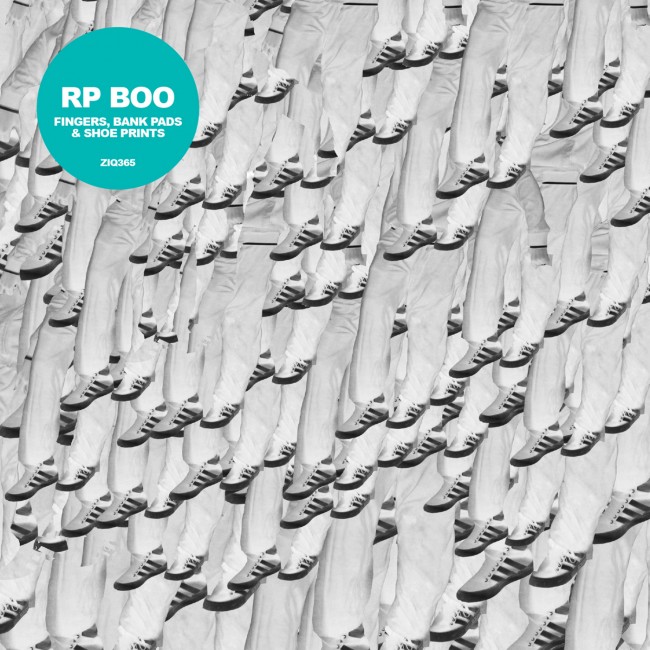 29-06-2015
Fingers, Bank Pads & Shoe Prints
ZIQ365
"Footwork"—the very word indicates a movement of the feet that is "work" (as in an effort to achieve). Its joyous social party nature sits within a lineage of African American history that includes the infamous Soul Train dance tunnel and Hip Hop dance circles. However, as Footwork continues to become more popular, we should not forget that at its essence it is a highly evolved battle form. This is the central theme one feels listening to the stunning "Fingers, Bank Pads & Shoe Prints," the second album from RP Boo, the man credited with inventing the Footwork genre with a 1997 track "Baby Come On" (recently re-released on the Planet Mu EP "Classics Vol. 1").
RP Boo is to Footwork what Juan Atkins is to Techno – a source point for a busting out of innovative ideas and new directions. When asked about his role as progenitor of the genre he humbly notes, "It has taken me a while to adjust to. I actually had to think about how it could have come to be by listening to other producers and DJs that were around as it was forming. All of them said, at different times, hey RP you know you created a mean following of people that are inspired by the way you make tracks and get the dancers into a whole new battle stage with energy. It helps me see that I represent a breathing source of sounds."
Dancing is central to RP Boo. If you've been lucky enough to catch one of his DJ sets, such as his groundbreaking 2013 European debut at Unsound Festival in Krakow, you'll have seen him come out from behind the decks and start dancing in and with the crowd, spreading Footwork both sonically and as an evolving set of movements. People who meet RP Boo may note a stark contrast between the intense battle aesthetics of "Fingers, Bank Pads & Shoe Prints" and the joyousness of RP Boo as an individual. He says, "I know how to speak battle from being in the circles. Footworkers need fuel and they often say, only you can get us to battle like that. Once outside the turntables, I use the same energy to speak with people. It's a job and I am strong on giving encouragement to others, I want to uplift people. I have to try and walk that life for as long as I am alive."
Sonically, RP Boo is a modern-day Zatoichi samurai, cutting his samples in unorthodox ways. His sound remains unique. "Fingers, Bank Pads & Shoe Prints" contains both tracks made after his acclaimed 2013 debut album "Legacy" ("An album of scorching, scene-defining hits" SPIN) and older tracks. Highlights include "Banging On King Dr." which sees him cutting up street numbers; the monolithic noir feeling of "Sleepy"; the subtle funk of "Your Choice" which may in some way be inspired by his Dad's role as bass player for Prince; "Lets Dance Again" whose delicate soulful sound echoes deep streams of Chicago dance music history; the dramatic string-infused "Daddy's Home" and the celebration of achieving dreams that is the closer "B'Ware."
"Fingers, Bank Pads & Shoe Prints" is the sound of an innovator reconfirming his place as leader with one of the most essential Footwork albums to date.
01 1-2D-20'2
02 Bang'n On King Dr.
03 Your Choice
04 Freezaburn
05 Heat From Us
06 Kemosabe
07 Finish Line D'jayz
08 Daddy's Home
09 Let's Dance Again
10 Sleepy
11 I'm Laughing
12 Beat Me
13 Suicide
14 B'ware