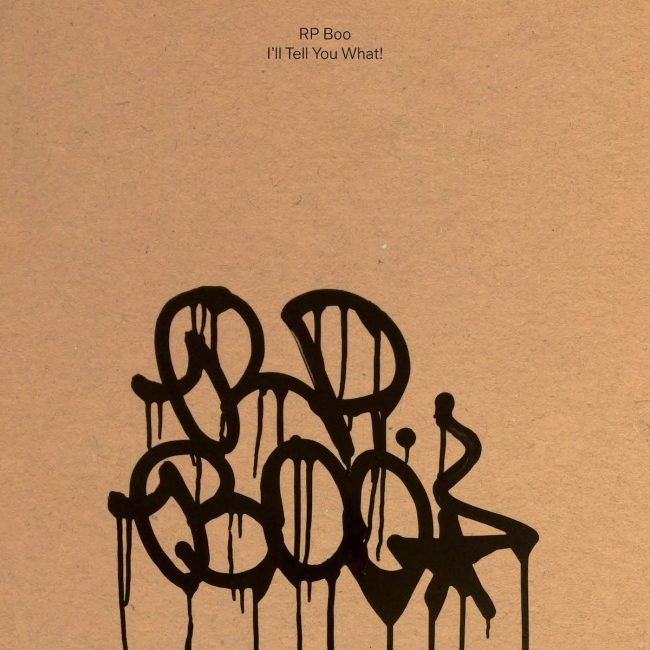 06-07-2018
I'll Tell You What!
ZIQ396
01 No Body
02 Back From The Future
03 At War
04 Cloudy Back Yard
05 U-Don't No
06 Earth's Battle Dance
07 Work The Flow!
08 Bounty
09 Flight 1235 (ft. DJ Phil & Crossfire)
10 U Belong 2 Me
11 Wicked'Bu
12 Deep Sole
"The richest place in the world is the cemetery. And it's not because of the jewelry that people might have on. It's because of what they had in their mind that they wanted to give, but didn't have anyone to give it to. That's how I learned that it's not about me, it's about the listeners. It's about giving back. I wanna die empty."
-RP Boo
Longevity is promised to no one. We literally live to die, and even great masters perish without saying what they needed to say while they're among the breathing. Most of us leave this earth too full, and the grim reality is artistic careers are usually short-lived. Chicago footwork godfather RP Boo has fought long and hard to evacuate his mind of all he can throughout his long career, spanning over 30 years since cutting his teeth DJing for the legendary House-O-Matics. 
While notorious in the streets of his own city, most of his music had been unfairly confined to small white labels and self-released mixtapes until his two LPs of archival material Legacy, and Fingers, Bank Pads & Shoe Prints introduced broader audiences to his sonic history, some of it fifteen years after it was first recorded to a four-track. I'll Tell You What! is the next step in Boo's mission to rid his mind of everything it contains, and marks the first time he's released an album of contemporary material shortly after creating it. The title, a favorite maxim of his, welcomes listeners to sit down and let him narrate in the unforgettable abstract fashion that he is known for. He explores familiar motifs, such as the cosmos, movement, and opposition, using densely interwoven vocals, unpredictable percussion, and evil humming bass as his tools of choice.
You could swap many of the tracks on this album with the tracklists of his old mixtapes and aside from some tape hiss, they wouldn't be too out of place. The level of innovation has stayed the same for twenty years, as Boo's music doesn't follow the traditional rules of decay that most compositions do. Layering decades of samples from yesteryear to the present over his commanding vocal cut-ups, he transports the listener to their own realm of the space-time continuum. The main difference between this record and his prior work is now we hear Boo tell new stories about preaching his gospel outside of Chicago, from his experiences frantically touring the globe over the last five years. The words "things ain't been the same / since I hopped the plane" are repeated on top of engine sounds and rumbling bass on Flight 1235, a glorious paean to his new jet-setting adventures.  
While he is one of the kindest, most humble people I've had the pleasure of knowing, the spirit of competition runs through RP's veins as much as blood does, something you can't unlearn when you've been making music for Chicago's footwork circuit for as long as he has. The local culture has served as a shelter from the violence that has plagued the city, pitting kids against each other with their feet rather than weapons. On At War Boo reminds us "we are at war in the streets", a double meaning to both the mayhem in this world and the sweetness of rivalry on the dance floor. Another battle-themed track Cloudy Back Yard, one of the spacier moments on this album, is an abstract on the state of footwork's home. Chicago remains the backyard of this art form even though it's left the porch and traveled to new neighborhoods worldwide. Back at home though, competition among the DJs and dancers continues, and as the man himself says, "with all this hate, there's smoke, and it's cloudy". 
In addition to giving us plenty of the RP Boo we love, I'll Tell You What! throws more than a few curveballs into the mix. Footwork has always borrowed from hip-hop, and many vocal tracks are almost condensed raps, dating back to the street chants pioneered on Dance Mania Records in the ghetto house days. On Bounty, Boo grabs the mic and brazenly lays down a full-on verse of terror over a thick atmosphere of his signature sweltering low-end and erratic Roland R-70 patterns. 
While he's most famous for his confrontational battle anthems, his melancholy moments are just as powerful. You get the best of both of those worlds on U-Don't No, with soulful samples finishing his own cocky sentences, one of the most elegant tracks RP has made to date. Deep Sole closes the record out, with the words "It's always beautiful at the end" looping over waves of hypnotic synthesis, confidently looking death straight in the eyes, and in my mind, telling us that he's leaving this earth with an empty mind like he set out to do. In the decade I've know RP Boo, he's been a constant source of inspiration, not only musically, but also on how to conduct oneself while moving though this wicked world. Immerse yourself in the environment he has worked decades to create, and maybe you'll find ways to exhaust your own brain before faced with whatever comes after this life.

-Dave Quam