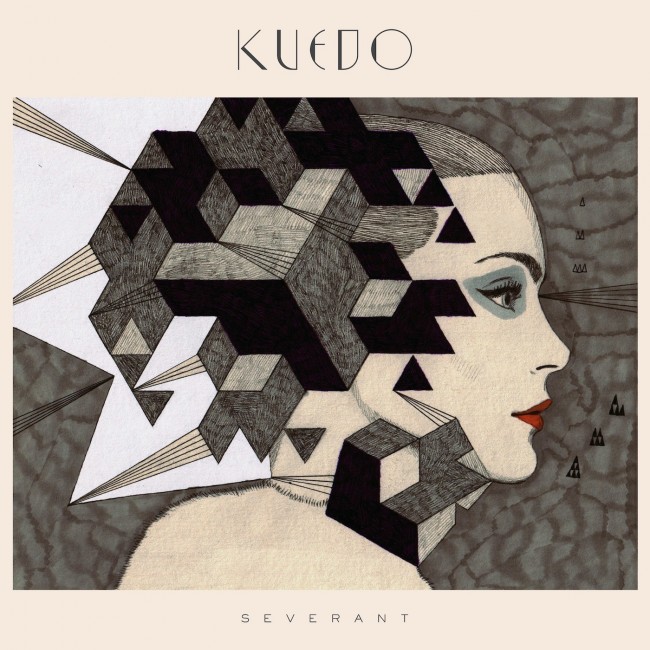 17-10-2011
Severant
ZIQ309
On his debut long-player 'Severant', Jamie Teasdale a.k.a. Kuedo has made an album of dreamlike music, loaded with his own preoccupations with futurism and escapism, that's very different from his previous output as one half of Vex'd.
With his intentions re-evaluated for the making of this album, his process to capture them has evolved to a more automatic way of creating tracks, cutting back on the endless technical options available to the modern producer and rendering them at a quicker pace to reveal a lighter, more truthful music, as he puts it: "On the side of modernism".
In terms of feeling, 'Severant' explores the space between the detached world of the imagination and the real-time world; that feeling of coming out of a daydream, on the edge of the drift from the day-to-day grind. Jamie says of this moment "As reality shapes imagination and escapism affects your choices in the real world, there is a strange relational loop between the two and the space in between the two. There's a bitter sweetness in that gap, it has a certain emotive quality, kind of in between being and non-being".
Again, musically 'Severant' is inspired by related themes. It sounds as if it's in a sweet spot between the emotive, innately futurist synth soundtracks of Tangerine Dream and Vangelis, borne from a time when the very idea of futurism was more prevalent, in combination with musical ideas and inspiration from the emotionally ambivalent, materialist fantasies of 'coke rap' such as The Clipse. Rhythmically the record is influenced by what Jamie calls "the two ultra modern musics of modern times", footwork from Chicago, which Planet Mu has explored in depth on its recent releases, and again the drum machine grids of coke rap. Jamie says "I wanted to capture a really futurist sentiment, kind of melancholy and grand luminescent, so I used the instrument that most evokes that for me – that sweeping Vangelis brass sound."  And on coke rap he talks about the emotional 'half being' of the music, the energetically charged, detached ambivalence of the MCs, and the admission that the MCs could be "fantasising without admitting to doing so."
The title 'Severant' refers to stark changes of circumstances in Jamie's life when the album was made and the music works strangely like scenes from a film: tracks are concise and direct and one of the albums great and unusual strengths is that on repeated listens different songs rise to the surface and the album repeatedly changes and develops in the listeners ears and mind.
*Artwork by Anna Higgie*
01 Visioning Shared Tomorrows
02 Ant City
03 Whisper Fate
04 Onset (Escapism)
05 Scissors
06 Truth Flood
07 Reality Drift
08 Ascension Phase
09 Salt Lake Cuts
10 Seeing The Edges
11 Flight Path
12 Shutter Light Girl
13 Vectoral
14 As We Lie Promising
15 Memory Rain