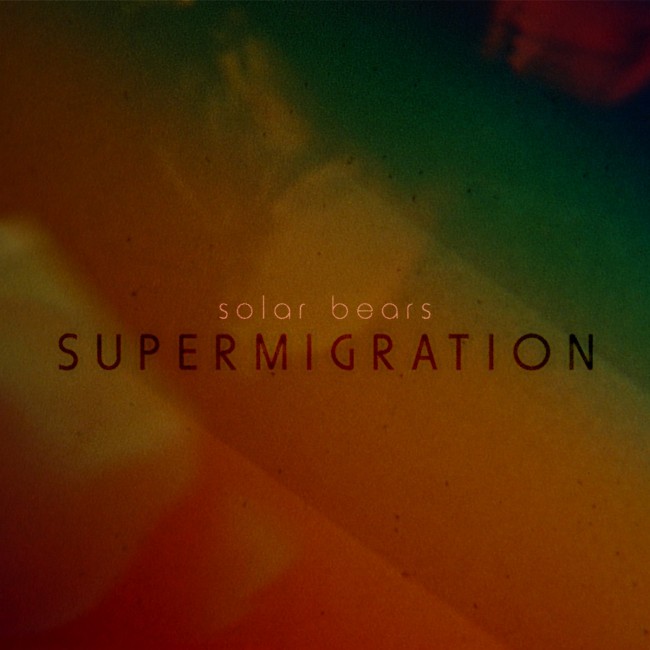 15-04-2013
Supermigration
ZIQ334
A real sense of drama is a thread that runs through Solar Bears music, 'Supermigration', their second album following 2010's critically lauded 'She Was Coloured In' is full of all kinds of drama – from the intimate to the psychedelic, from the chase to the suppression. This time it's been taken to a new level in all kinds of ways.
Supermigration is the result of a year and a half of on/off studio time in a state-of-the-art studio in the Wicklow Mountains (a far cry from the bedroom studio where they produced their debut). Compositions were road tested through a steady stream of live performances that saw John and Rían expanding Solar Bears from a duo into a full-scale band featuring members of I Am The Cosmos, Jape, Ships, Great Lakes Mystery and special custom visuals. And let's not overlook the two vocal-led highlights of the album featuring special guest appearances from Sarah P of Keep Shelly In Athens and the legendary Beth Hirsch (whose work here recalls her appearance on Air's Moon Safari). Supermigration is clearly telling us that despite the strong acclaim around their debut, this Ireland-based duo was simply warming up.
The title is inspired by Native American culture and the krautrock band Neu, giving this record a sense of the nomadic mystic. Occasionally you can hear parallels in approach to the recent work of Broadcast and the Ghost Box crew too. Their music also possesses an electronic sci-fi sheen as rich as their Planet Mu peers, but like the fact that their name is taken from a Tarkovsky movie, that's just one portal, there's also an emotive nostalgic side to the record that transcends the now, cutting a path through their diverse inspirations that include everything from Erik Satie to the Incredible String Band, from Cluster to Madlib. John rightly notes "It's fair to say we listen to a lot of music from decades gone but we get inspired far more from spontaneity in the studio."
If pushed, John might also admit the cut Cosmic Runner (leaked a while ago on various sites including Pitchfork) was inspired directly by Robert Anton Wilson's Cosmic Trigger and that Rainbow Collision was inspired by a "Psychedelic daydream of two stained glass rainbows colliding over a Technicolor ocean… plus it matched the arrangement." Solar Bears are about layers, a sense of movement and drama, all brought about by a deep process that has resulted in one of the most exciting second albums this year. But what do we want a band to do on their second album? Give us the things we like about the first, but also to expand, and by setting off on their own personal, deep and intense migration that's just what Solar Bears have done on Supermigration. Welcome to the trip.
01 Stasis
02 Cosmic Runner
03 Alpha People (feat. Keep Shelly In Athens)
04 Love Is All
05 The Girl That Played With Light
06 You And Me (Subterranean Cycles)
07 Komplex
08 Our Future Is Underground (feat. Beth Hirsch)
09 A Sky Darkly
10 Rising High
11 Happiness Is A Warm Spacestation
12 Rainbow Collision