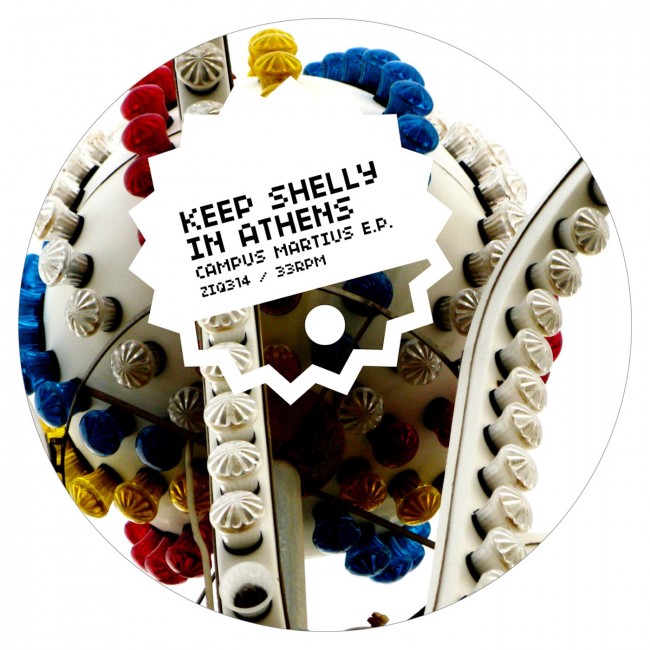 05-12-2011
Campus Martius E.P.
ZIQ314
Hailing from Greece's capital, the duo 'Keep Shelly In Athens' have been the toast of the blog world for a while now, and their first EP for Planet Mu is in keeping with a consistent level of odd synth-pop that the label has released this year from Tropics to Vezelay, Heterotic to Solar Bears.
With several releases under their belt they first came to our attention with their remix of Solar Bears 'Cub', an awesome re-imagining of the track from the boys debut album. The remix is a monumental slice of cold but blissful synth pop, with stadium-sized reverbs and punched-in repetitive vocals over rumbling guitars and punchy drums.
'The Chains' has all the off-key atmosphere of an Italian horror film soundtrack with the band's female singer intoning a melody that could come from a 'Violator' era Depeche Mode song. The whole song breaks down towards the end into an intense finale.
Title track 'Campus Martius' has a giant humming bassline, with electronic drums scratching away like insects flying at windows, as a gentle piano line ripples over the top painting a feeling of airy pleasure  while vocal samples drop a melody at altered pitches. A scene of tentative bliss.
Finally, 'Struggle With Yourself' pits Sarah's raw singing over a weird acidic bassline that could easily sound at home on a Coil record along with loose guitar strums, before the track breaks into light spoken word and angelic vocals, finishing off as it started, but with a stark warning.
01 Solar Bears – Cub (Keep Shelly In Athens Remix)
02 The Chains
03 Campus Martius
04 Struggle With Yourself