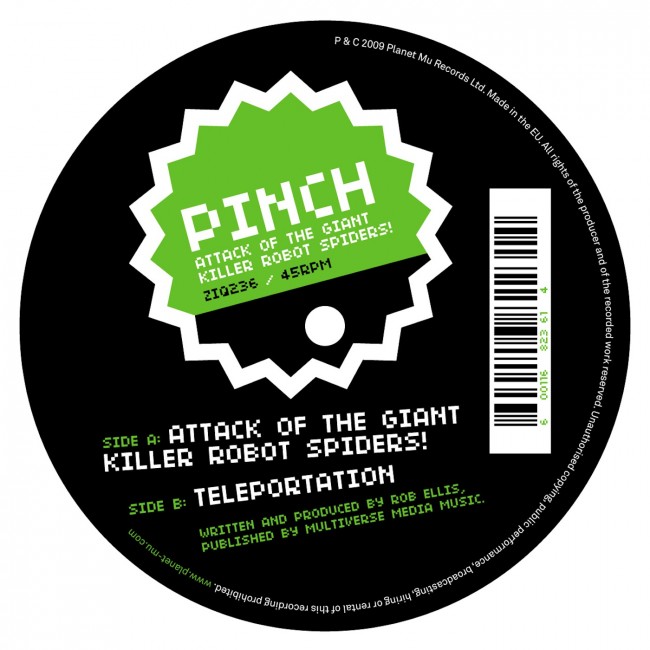 04-05-2009
Attack Of The Giant Killer Robot Spiders!
ZIQ236
Arguably the King of the Bristol scene, DJ Pinch is a name that everyone who is into dubstep should have come across by now. Just one look at his myspace list of forthcoming gigs is enough to make anyone who enjoys travel envious, a sure sign of his success and worldwide recognition. Following a string releases on Tectonic, Tempa, Soul Jazz, and Punch Drunk, "Attack Of The Giant Robot Spiders!" marks Pinch's fifth release for the Planet Mu label.
"Attack Of The Giant Robot Spiders!" shuns the ever present need in the bass scene to go harder and louder. Instead Pinch reins it in and takes masterful control of the beats making a track that is both progressive, dark and harrowing. In a similar vein to Darqwan and Distance, Rob Ellis seems to understand the approach that less is often more, creating an atmosphere of claustrophobia and anxiety within his music; always leading never following. 'Attack…' starts off with a big lurching beat that pushes its way across the dark background soundscape of soft pads and ambience finally arriving at the wooden chunky bass drop a good third of the way into the tune. Once it reached this point it is difficult to stop your head nodding. The composition finally seems to open up with a warming lead that makes you feel the attack is over.
Teleportation again relies on the emphasis of what's not there. Rob Ellis creates a great feeling of space between his fast 2 step beat before a soft pad lead laps over the top. With moments of silence before a female vocal asks the question "Teleportation"?
01 Attack Of The Giant Killer Robot Spiders!
02 Teleportation