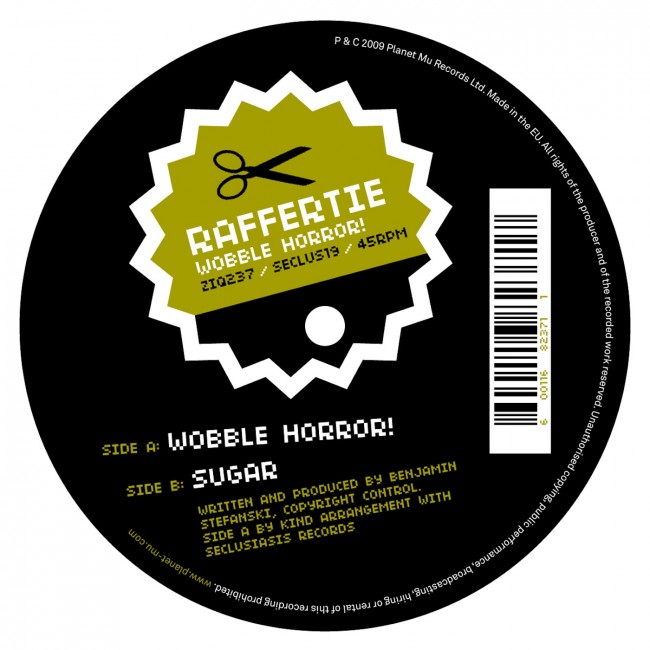 11-05-2009
Wobble Horror!
ZIQ237_SECLUS19
Hailing from the south coast and now based in Birmingham, Raffertie is the 21 year old DJ/producer whose innovative and downright filthy style has been smashing up the UK's underground dance music scene for the last couple of years.
Playing high energy, bass-laden tunes, Raffertie has quickly became a firm party favourite across the UK. His sets include everything from uplifting pop classics and 90's rave anthems to the filthiest house, garage, grime and dubstep tracks, creating huge dancefloor reactions that earned him a residency at Hold Tight in London.
Alongside his DJing exploits, Raffertie's productions have received much acclaim. Following a set of renowned bootlegs that ply all manner of tunes with sickening wonky basslines, it was his original productions that caught the attention of some big names. With Starkey championing the twisted rumbling monster "Anitsocial" (forthcoming on his own Seclusiasis label), Radio1's own Mary Anne Hobbs picked up the distorted, devastating beats of "Stomping Grounds VIP". She was so impressed that she invited Raffertie to do a guest mix as part of her showcase of up and coming talent, describing him as "as sick as they come".
A side, "Wobble Horror!" is a monster of a tune. Rave hoovers and fat bass churn away under a twisted vocal looping and repeating  "I'm getting sicker by the day…" Serious high energy business.
"Sugar" fits somewhere in the gap between the real jump-up grime, dubstep and  bassline that London seems to be all about at the moment. In a similar vein to Moves!!!, Drums of Death or A1 Bassline, Raffertie sets you up for a pure sugar rush. This release is guaranteed to create him a legion of loyal followers who will follow him to the end of the bassline and back.
01 Wobble Horror!
02 Sugar