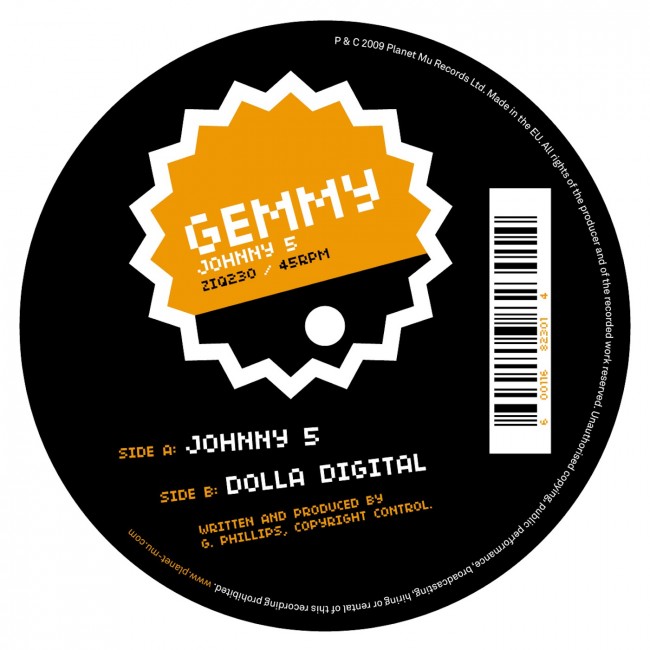 23-11-2009
Johnny 5
ZIQ230
Bristol producer Gemmy is one of a New Generation of producers alongside Joker and Guido nicknamed the 'Purple Trinity' and celebrated for their innovative sound.
Gemmy's productions are like playdoh; bouncy and rounded. He takes elements of Grime, the G-funk of Dr. Dre and the warm electronics of Digidub and mixes them with the clean dayglo sensibility of 16-bit console classics like Sonic The Hedgehog giving his productions an almost synaesthetic quality, framing this with low-end histrionics for maximum dance floor impact.
He's previously released 12"s on Punchdrunk and M4 records and had one 12″ on Planet Mu. he also had the track 'Rainbow Road' on Mary Anne Hobbs' 'Wild Angels' compilation, but this double E.P. really showcases the different sides of his productions to date and in fine style!
Side A 'Johnny 5' makes use of a bleepy melody matched to slurring waves of bass and snappy double time electro drums.
Side B 'Dolla Digital' is an anthem. Gemmy's catchy sing song vocoder melody contrasts with double speed 808 toms, a fierce bass kick and rough midrange synths to make an unusual and rather lovely psychedelic song.
Side C 'Wata Down Sound' manages to do something that sounds completely unique within a fairly standard dubstep template, making good use of a couple of choice samples, it starts with a rude melody that sounds like a synth impersonating an electric guitar, before a lightning–like flickering midrange bassline drops in.
The Final track on Side D 'Shanti Riddim' is supreme 16-bit steppers dub, updated with a tight grid of drums and sub bass, a bubbling 8-bit bass line and a melody that wouldn't be out of place on an old Sega game.
01 Johnny 5
02 Dolla Digital
03 Wata Down Sound
04 Shanti Riddim