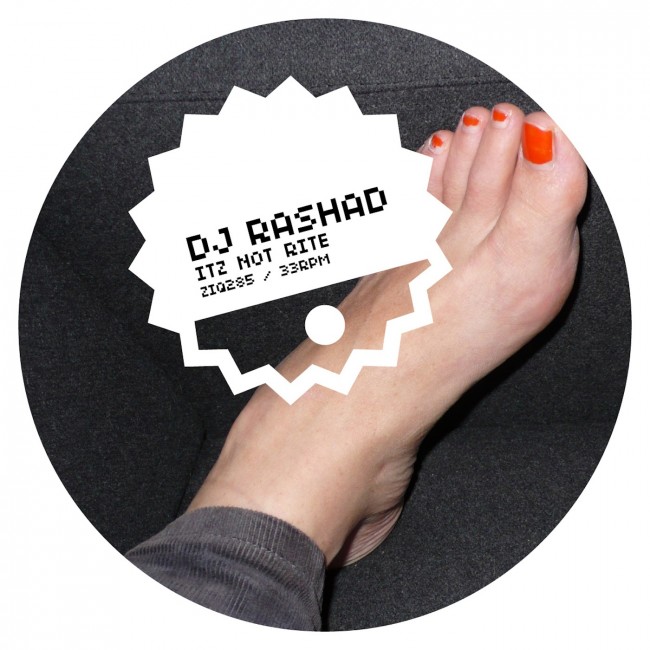 04-10-2010
Itz Not Rite
ZIQ285
DJ Rashad has been instrumental to the creation and evolution of Chicago Juke music and has been lifelong friends with other key players on the scene such as Paul Johnson, DJ Gant-Man, DJ Spinn, DJ Godfather and Jammin Gerald. He has the ability to blend elements of house, ghetto house, disco, juke, and ghetto tech together with a knack for creating sparse, snappy tracks that manage to convey a physicality and funk with spectacular precision.
Along with his teammates DJ Spinn and DJ Gant-Man, DJ Rashad has become notorious for making Juke anthems that have made fans outside the world of Chicago mix cds. He's dj'ed across Europe and released records on Juke Trax and Databass records earlier on in his career and has some big remixes and collaborations in the pipeline.
On this six-track EP he builds tracks that cut across and utilise styles, with effective and synapse snapping style. 'Itz Not Rite' builds from a half speed chopped up hip hop speed track into a double speed hyper-rhythmic monster. 'Teknitian' is panicky in mood, playing sirens over pounding, militant drums, whilst '10 on Da Cush' contrasts spacey smooth jazz samples with pumping drums and bass. 'Who Da Coldest' starts with techno synths that recall early Underground Resistance acid rain tracks, mixed with hard drums and claps and a lush breakdown that sounds like it's been borrowed from mid 90's jungle. 'Baby' works by simply taking a short soul sample and editing it into a series of bumpy chopped up, rippling shapes and rhythms. Finally, 'Rashad' layers shuddering, micro-edited samples into a tight lattice, propelled by tense, aggressive drums, the feeling is almost overbearing and alien, until the familiar voice of a soul singer rolls through the mix tethering the track to something more real.
01 Itz Not Rite
02 Teknitian
03 10 On Da Cush
04 Who Da Coldest
05 Baby
06 Rashad