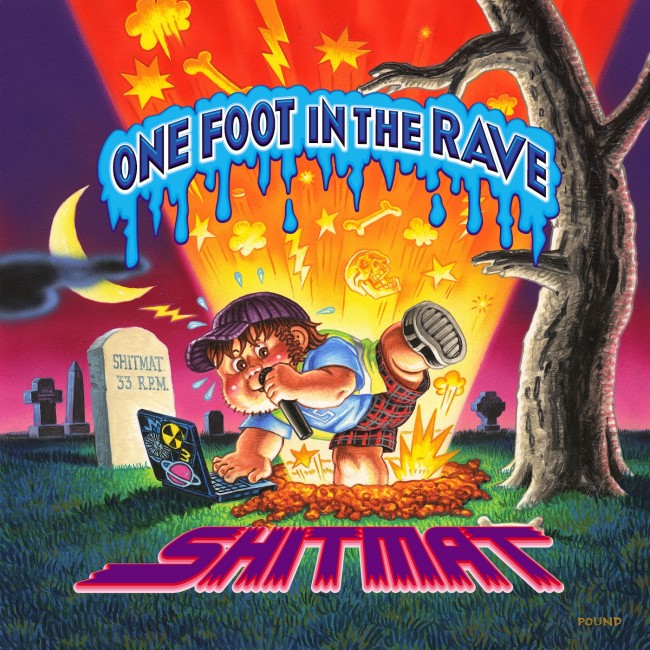 18-05-2009
One Foot In The Rave
ZIQ224
Stepping up for album number four on Planet Mu, if you don't know Shitmat by now then where have you been? Co-founder of the seminal 'Wrong Music' record label and veteran of the breakcore scene, Henry Collins from Brighton is back. Is 'One Foot in the Rave' the end of the line for Shitmat as you know him? Will this be his last album under the Shitmat moniker? if so, what a better way to end things with the way it all began, back to the oldskool.
With throwback albums being the fashion, Shitmat joins the likes of Zomby and Glowstyx to bring a nostalgic album of '92-'94 jungle breaks and amen killers. Shitmat has gone to great effort in the album to keep the original authentic Jungle sound using an Akai S950 sampler, the hardcore junglist's weapon of choice and sampling cassettes from old pirate radio shows. This amen-heavy full length is reminiscent of DJ Seduction, Foul Play and early Remarc with a tip of the hat from Shitmat towards the oldskool masters of the break.
Shitmat continues to tour with dates across the U.K and Europe with a headlining date at the Bangface weekender where fans will be able to witness the full on gore and carnage of Shitmat's One Foot in the Rave tour.
01 The Golden Age Of British Dance
02 Front 2 Da Back
03 Sniffer Dogs
04 Nasty Rabbits
05 Illegal Soundz Of The Vibe
06 Downer
07 Clash And Carry (Old Socks Remix)
08 Best Before 10-11-1992
09 Fairy Green Liquid
10 Archaeology
11 Whitelabel Unity
12 Just A B-Side