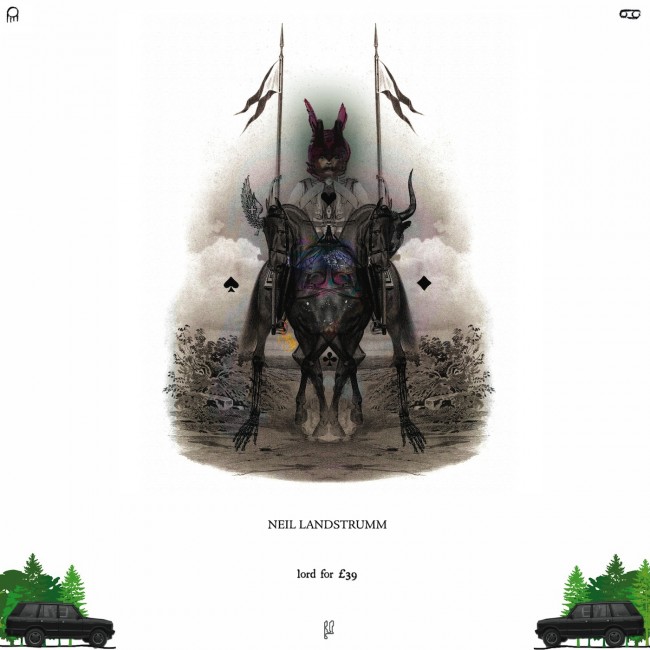 01-12-2008
Lord For £39
ZIQ206
Since 1994 Neil Landstrumm has been doing the rounds, releasing his trademark electronic sounds on some of the most recognised labels in the industry, including Peacefrog, Tresor Records and now, the greatest electronic label of the moment, Planet Mu. Neil's first album for Mu "Restaurant of Assassins" saw Landstrumm calling on varied influences from techno, dubstep and breaks as well as vintage 90s rave sounds. The success of the album led Neil onto a string of sessions for the BBC, appearances on Kiss FM, and plays from the likes of Mary Anne Hobbs (Radio 1 experimental show).
Landstrumm's new LP on Planet Mu, "Lord for £39", expands on the steel-city industrial-rave styles set out in his last full-length venture "Restaurant of Assassins". With several cameos from such stately artists as Carlton Killawatt, Ebola and Si Begg, the vibe is "Imperial British Bass Psychedelia" and all it's stylish bleepy trimmings. Freshly imported southern-fried krunk, and sweet island dancehall  are mixed with the refreshed roots of UK rave, steppers, grime and garage to brew an addictively low frequency elixir. Cult analogue gear and digital production techniques meet in the Witness Rooms to a useful and sovereign effect . British electronic heritage is neatly woven into a new  modern bass experience sure to export well to stakked hi-fis near you soon.
Lord for £39 is about being a baron on the cheap. Hunting out cut price maximal potentials and generally having the run of the place. Getting the gear, penning the look and shaping the sound. Hijacking the system after greed has caused it to fail and getting on top.
01 Transmission (with Si Begg)
02 Easter Krunk Power
03 Shit Daddy Bass (with Carlton Killawatt Valley)
04 Old Rabbits
05 Little help From Rustie (with Tobias Schmidt [SES])
06 Dirty Butcher
07 King Of Malta
08 £20 To Get Home (with Si Begg)
09 Category D
10 The Dose (with Ebola)
11 Nike Volume (with Profisee)
12 Witches Butter
13 Mask Of Musk
14 Ross Kemp As Pixel