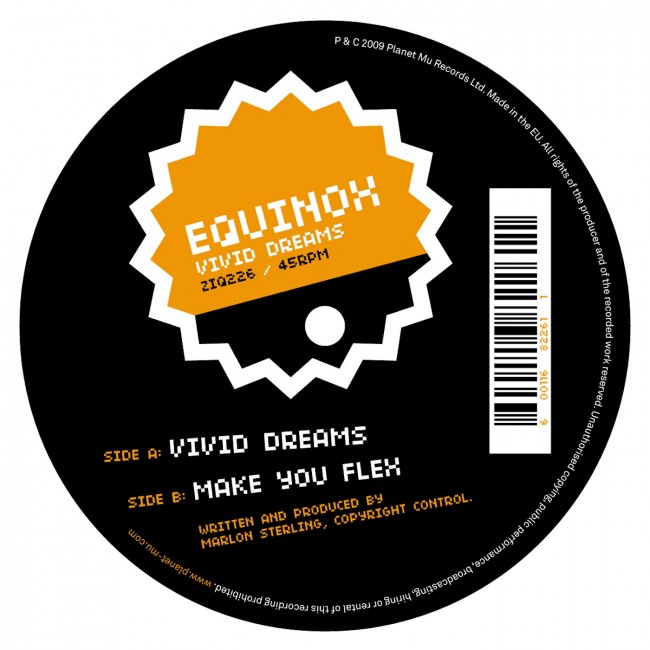 11-05-2009
Vivid Dreams
ZIQ226
Following on from releases on some of drum n bass's most influential labels, (Metalheadz, Bassbin, Breakin, Inperspective, and Intasounds), veteran of the scene Equinox is back once again on Planet Mu with more weighty jungle business. Born and raised in London, Marlon Sterling has been in the game now longer than most of the Dubstep kids have been alive (in other words late 30s), always pursuing his purest view on the capital's bass sound.
"Vivid Dreams" is a track from the depths of his archive. Made in 1996 using the Junglists weapons of choice, the Amiga 1200 and the Akai S950 (ensuring that the bit rate is kept low and the kicks and snares punchy), it stands up well to the test of time, showing that good music will always be good music regardless of age. The track opens lushly with plenty of jungle atmosphere that sounds deep and edgy and immediately brings back memories of Nookie, Omni Trio and DJ Dextrous.
On the flip, "Make You Flex" is a tearer from 1994 reminiscent of Remarc and Austin M. This was the era in which Marlon was still recording for Brain Records with Bizzy B. Ripped-up amens gush away over atmospheric pads and a folk-rave vocal drenched in reverb and delay.
01 Vivid Dreams
02 Make You Flex