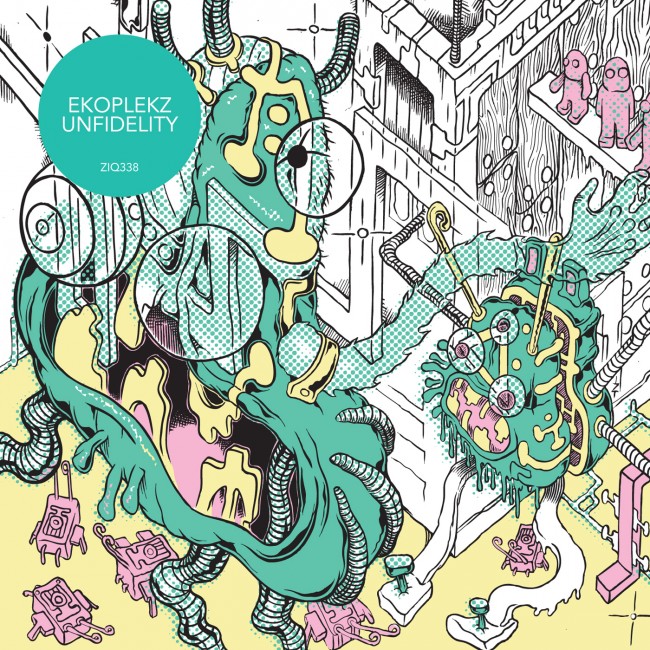 10-03-2014
Unfidelity
ZIQ338
On this, his debut album for Planet Mu – with Mike Paradinas working alongside Nick to pick the fruits of his labour – Nick Edwards' Ekoplekz project creates an album that feels just right for Mu.
Ekoplekz has previously released on a number of labels, but with Unfidelity the music aligns itself with Mu's melodic sensibilities and lets the early 90's electronica influences bleed in, although the album still has the intensely transporting feel that all his work possesses.
The title track is the big giveaway to Nick's music if you've not heard it before. A hands on approach to music making, 4-track recordings, un-sequenced and murky with a molasses-thick harmonic drone that needs to come with a 'do not listen to whilst driving heavy machinery' warning, leaving you with a mood flashback to the fuggy feeling of a teenage bong intake.
The music on Unfidelity has a dreamy, nocturnal feel. It's perpetually damp, with muffled drums, cloudy dissonance and dubbed-out metallic squalls, it owes as much to King Tubby as LFO, or to the Radiophonic Workshop as Harmonia. Take Severn Beach's slowly building melodies over a bed of broken drum-machine rhythm. It sounds like a twisted memory of seventies TV holding music, or Sea 90's squealing metallic dub. Nerva Beacon is dreamlike: it's nervous pulse holding together a tense journey with an underwater feeling. Coalpit Heath is a skewed take on Jazz, with a delicate melody finding itself enveloped by rain, dubbed-out shivering fx and bubbling drums. Meanwhile Pressure Level is almost dub techno, mercilessly delayed melodies and noisy squall over a low dub bassline and a barely there drum kick and Tuning Out runs with Kosmische melodies and blended noise. The album finishes with Sleng Zen's rich orchestral chords, pattering drums and dubbed bleeps. We think this is Ekoplekz's most satisfying album to date and we hope you do too.
01 Trace Elements
02 Nerva Beacon
03 Robert Rental
04 Severn Beach
05 Sea 90
06 Unfidelity
07 Coalpit Heath
08 Pressure Level
09 Analogue Twitch
10 Tuning Out
11 Sleng Zen