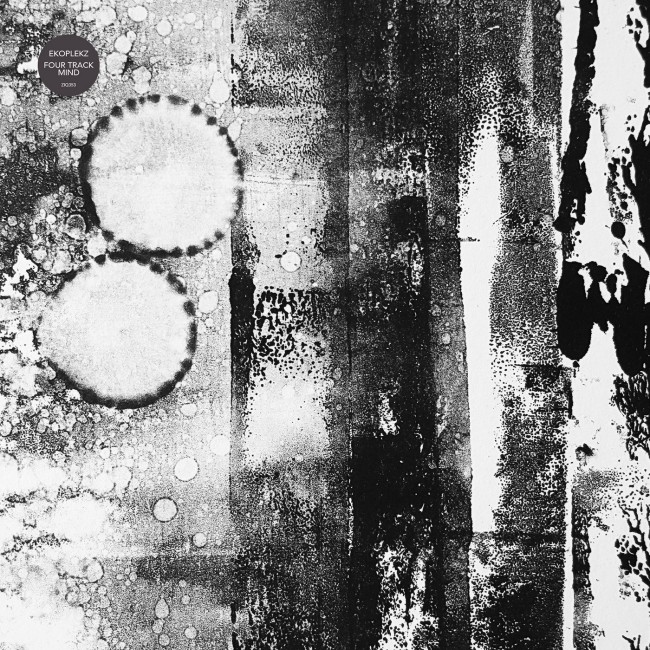 18-08-2014
Four Track Mind
ZIQ353
Following hard on the heels of "Unfidelity", his critically acclaimed debut for Planet Mu, Bristol's analogue explorer Nick Edwards unleashes another set of home-taped electronic excursions. Many of these tracks could easily have been included on the previous album, and in fact most of them were recorded during the same time period, but had to be left off simply due to lack of space. In that sense, "Four Track Mind" can be viewed as a companion volume to "Unfidelity", but also presents a slightly wider selection of moods and ideas for those intrigued enough to further explore Ekoplekz' distinctive four-track sound.
Opening track "Ariel Grey" stretches out over nine minutes of eerie loops, drones and submerged beats, punctuated by a mid-section of driving post-punk electronics. "Return To The Annex" is a similarly long, slowly evolving piece, where Edwards plays along mournfully to a cassette recording of himself as a child talking to his long-deceased father. By contrast, the brief, almost throwaway melodies of "In Teak Effect" and "Meek Street" reveal Edwards at his most playful and unselfconscious. "Reflekzive" and "D'Vectif" are more typically intense analogue drum machine workouts, with added layers of drone and fragile melody, drenched in filtering and echo, whilst "Tantrikz" takes a downtempo route to a more detailed, rhythmically expansive zone.
Coming so soon after "Unfidelity", it was decided to take a more understated approach to the release of "Four Track Mind". There will be no big publicity campaign, no CD edition and no full distribution. It will be released as a double vinyl LP, strictly limited to 300 numbered copies and only available directly from the Planet Mu store and a handful of other online retailers (Bleep, Boomkat and Norman Records). This one is for the serious fans only!
01 Ariel Grey
02 Tantrikz
03 Meek Street
04 Interstice
05 Reflekzive
06 Death Watch
07 D'Vectif
08 In Teak Effect
09 Four Track Mind
10 Return To The Annex
11 Fox Eyes