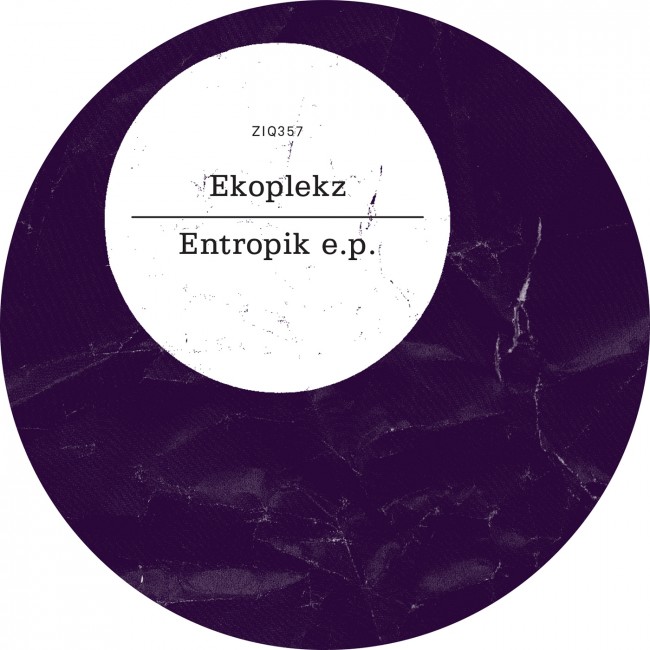 09-03-2015
Entropik E.P.
ZIQ357
Featuring just two tracks, The Entropik EP sees Ekoplekz stretching his sound towards breaking point, each track extending well past the ten minute mark, slowly evolving yet with a sustained intensity, strength of purpose and emotional impact that ensures that neither outstays their welcome.
"Entropy Flash" is a pile-driving epic – the relentless, heavily filtered analogue rhythms and skull-splitting drones offset by delicate, wistful melodies and a warm, extemporized bassline. It's title might make reference to a classic techno track by Beltram, but there the similarity ends. This is no homage, the sound is pure Ekoplekz, and the onus is on the listener to gauge what statement, if any, is being made here.
Fans of a certain late-eighties psychedelic drone-rock group might spot another reference in the title of the flipside, "Entropy Symphony", though as with the A-side, all sense of 'Ecstasy' has long since evaporated. Beginning with a volley of pensive, densely entwined melodic loops, the track is gradually submerged in layers of searing drone-noise. Though further propelled by the introduction of a one-note bass hit, ultimately the 'symphony' disintegrates into a grey void of instability.
Whether or not the listener chooses to interpret this EP in a conceptual sense, there is no doubt that this is some of the most powerful, life-affirming music to emanate from Ekoplekz' lo-fi studio hideaway to date.
01 Entropy Flash
02 Entropy Symphony