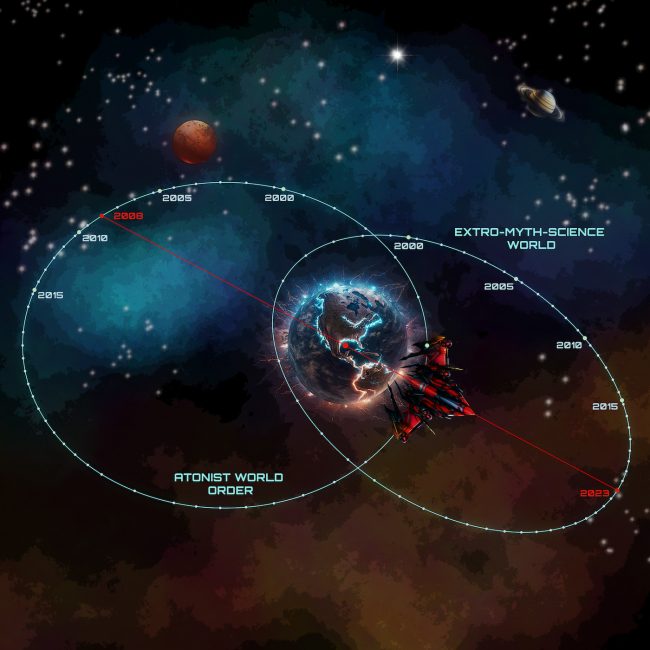 08-09-2023
Techxodus
ZIQ457
DeForrest Brown Jr., the writer and producer behind Speaker Music describes Techxodus as "abstracting Blackness through information overload" or as he states in the first track "Black music that sounds technological, rather than music made with technology." On Techxodus, he stakes out the intersection of tech, Blackness and resistance via music he's performed live and edited, ordered and reassembled in the studio.
The album can be read as an epilogue to his recent book 'Assembling A Black Counter Culture' or as a extension of the Drexciya Mythos; researching  and reimagining the artifacts and stories of Drexciya with new maps, ideas and music, in particular reflecting on the 'Seven Storms', seven albums that came out in quick succession around the death of Drexciya member James Stinson, which seemed to herald Drexciyans in the attack mode. 
The artwork by Abu Qadim Haqq, who also created artwork for Drexciya as well as for DeForrest's book, links the work two ways, with Deforrest re-orienting charts and timelines familiar from Drexciyan mythology, working up clues to all possible environments of Drexciyan survival from the depths of the Atlantic to oceanic islands or even outer space. Like Sun-Ra, another touchstone of Afrofuturist music, it might be that the Drexciyans wanted to leave the planet they hated. It might also be that the world has succumbed to 'Jes Grew', the Audio Virus in Ishmael Reed's classic novel Mumbo Jumbo. All these ideas feed through like shockwaves.
Musically the album is as intense as its inspirations, a collision of Black sound that bursts out of genre reaching beyond the expectations of club music. DeForrest skillfully hand-plays rhythms which amalgamate trap and free jazz drumming, but feel at times like orca-song as they pulse through the thick waves of digital sound. Equally the music evokes the ocean, with deep cold drones, or as if it's floating through time, like in 'Holosonic Rebellion' which weaves recordings of crowds of African Warriors. Sometimes there is an energetic turbulence as on 'Jes Grew', where punched-in passages of jerky brass bounce against DeForrest's drums to create a fluxing, disassembled jazz. Towards the end the album begins to feel like it's leaving for the cosmos, the rushes of ascending noise and distortion and spirals of Southern Gospel wails. 
Listen to Techxodus without the references or feed your imagination; this is a powerful and immersive original work from one of electronic music's most unique creators.
01 D.T.A.W.O. (Deprogramming The Atonist World Order)
02 Techno-Vernacular Phreak
03 Futurhythmic Bop
04 Holosonic Rebellion
05 Dr. Rock's PowerNomics Vision
06 Jes' Grew
07 Our Starship To Ociya Syndor
08 Feenin'
09 Astro-Black Consciousness