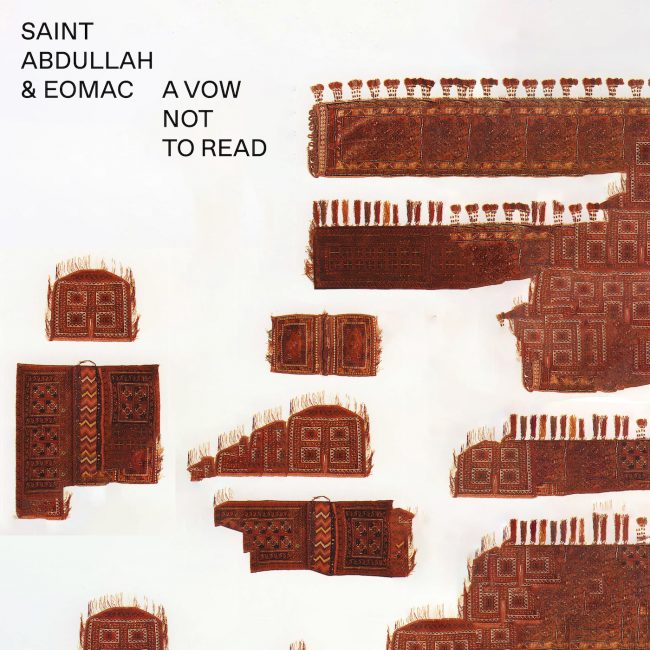 14-07-2023
A Vow Not To Read
ZIQ449
Saint Abdullah and Eomac is a long distance, ongoing collaboration between Mohammad and Mehdi Mehrabani, New York based Iranian-Canadian brothers who make up Saint Abdullah and Eomac, aka Ian McDonnell, a producer from Wicklow, Ireland, who released the excellent 'Cracks' LP on Planet Mu a couple of years back. They hope to finally meet this summer, but that hasn't stopped them already releasing an album 'Patience of a Traitor' on Nicholas Jaar's 'Other People' label last year.
Initially starting work together in 2019, they were mutual fans of each other's work and found that their own productions, Saint Abdullah using outboard analogue gear and Eomac in the box, complemented each other with a sense of rawness and heavy use of samples and extreme contrasts. 
With a title that hints at not getting too caught up in the information war, the EP also sounds like a rule of thumb for a collaboration, based on building tracks by passing music back and forth and working intuitively.
The five tracks here run at different speeds, from the beat-less opener, title track 'A Vow Not To Read' to the hip hop pace of 'Wali' with samples that draw from Shia Mourners, to the spaced out crunchy slow-mo of 'Mother I Couldn't Sleep' with Aquiles Navarro on trumpet. While 'Toes In The Hummus' has a rhythm like marbles being shook, all the EP is underpinned with thick chords, giving it a sense of cohesion, even with the chaos bubbling above.
01 A Vow Not To Read
02 Wali
03 No One Thought Of Love Anymore
04 Toes In The Hummus
05 Mother I Couldn't Sleep (ft. Aquiles Navarro)