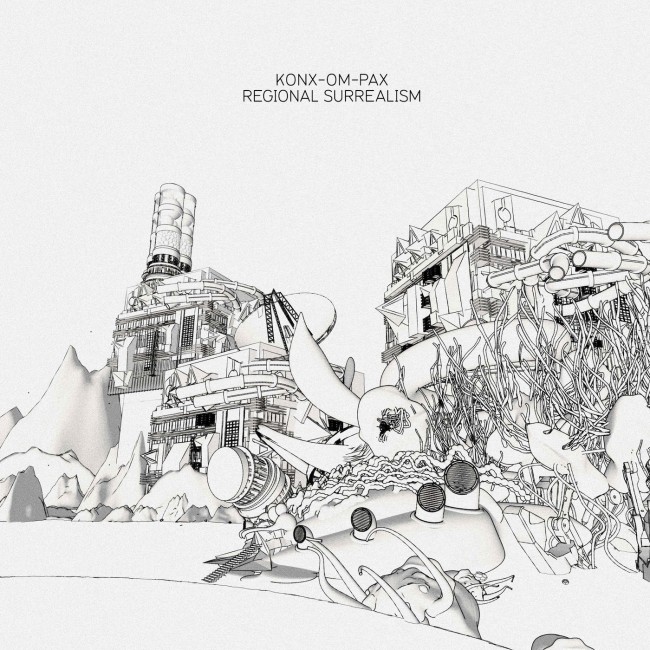 23-07-2012
Regional Surrealism
ZIQ323
You might be familiar with Konx-om-Pax previous work without already being aware of it. His real name is Tom Scholefield, he's from Glasgow and as a 3D film director and graphic artist he's made videos for locals Hudson Mohawke and Mogwai as well as Martyn, Jamie Lidell, Kuedo and Lone, sleeve artwork for Oneohtrix Point Never, Rustie, King Midas Sound and others plus he has toured with Mogwai as a DJ.
So how on earth does he find the time to make music, or the energy?
Tom explains that he makes music to chill out, a form of creative self medication. In contrast to his bright, synthetic and colourful artwork and videos, his music is more mossy and analogue. Often beatless, personal and located in a transporting surrealism, it's sometimes inspired by the idea of rescoring films and TV. 'Glacier Mountain Descent' for instance is a reimagining of the start of Werner Herzog's 'Aguirre'. Other times they're inspired by nostalgia for childhood feelings; watery immersion is a running theme and a sense of Scottish surrealism is another.
Tom started out making tracks as a teen, copying the synth lines he'd heard on prog house CDs, before graduating to a deep fascination with Jeff Mills and Drexciya's hermetic imagery and alien funk after hearing them on John Peel's show. This led him to creating lo-fi techno, then DJing and promoting events at artschool, which developed his knowledge, driving him to formulate an aesthetic of unpolished, textured and emotive music.
'Regional Surrealism' works largely like a film. Vignettes like 'Isotonic Pool' transition into larger more dramatic pieces like the deep 'At Home With Mum and Dad' which takes an early Aphex sounding ambient track and fills it with odd drama. 'Sura-Tura-Gnosi-Cosi' featuring mysterious US artist Steven Retchard is full of tape-hiss and unsettling spoken word, while 'Zang-Tumb' with guitar played by Mogwai's Stuart Braithwaite works in bruised and twisted Ash-Ra Tempel territory. Elsewhere 'Slootering' finds a sweet spot between Drexciya and Oneohtrix Point Never, while 'Lagoon Leisure' lets you get lost in musique concrete space and drops. Later on 'Hurt Face' rubs static and raw electronic textures together and 'Chambers' follows it up with a sunny glow. The album finishes on the water-themed 'Let's Go Swimming' which indulges in a slow-motion nostalgia, sending you away happy.
01 Intro
02 Isotonic Pool
03 At Home With Mum And Dad
04 Twin Portal Redux
05 Sura-Tura-Gnosi-Cosi (ft. Steven Retchard)
06 Zang-Tumb (ft. Stuart Braithwaite)
07 Glacier Mountain Descent
08 Pillars Of Creation
09 Slootering
10 Lagoon Leisure
11 Hurt Face
12 Chambers
13 Silent Reading
14 Let's Go Swimming