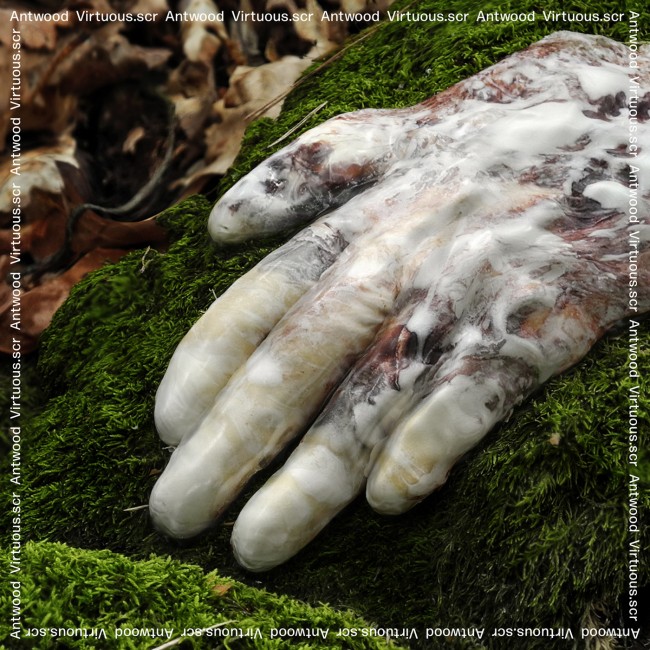 29-04-2016
Virtuous.scr
ZIQ378
'Antwood' is the alias of Tristan Douglas – a Canadian whose releases so far have been on netlabels such as Cocobass and B.YRSLF Division, initially under the name 'Margaret Antwood'. These early recordings have picked up interest from curious seekers of new music, with excitement from Fact magazine and a mention in Vogue's best music of 2015.
He's now dropped the punning female first name and been picked up by Planet Mu for his first proper full-length, 'Virtuous.scr'. The music on this album feels very modern, but doesn't feel genre specific or even created by a human at times. It has an obvious dark cartoonish cinematic feel to it that hints at computer game music and anime soundtracks, but it's as if the tracks are semi-autonomous beings evolving as part of a larger eco-system: the sounds are mechanical, things uncoil, whirr and stretch, strafe and crack around melodic segments, synthesised forms bouncing around the speakers, falling into melody and then out again, full of colour and drama.
Perhaps in this context It makes sense that Tristan is a microbiologist too – but also that the theme he was inspired by when creating the album was centred around the development of an AI. A little later in the process it started to crystalize into the idea of whether or not an AI can have a set of ethics, and if not, how close can it get to being like human intelligence? It comes through in the music as the album becomes more melodic, almost sentimental at the end. 'Virtuous.scr' also references the darker corners of the Internet, as reflected in its track titles.
Like all the best electronic music which isn't entirely melodic, the listener is able to put their imagination right at the centre of the work and can rest assured that the album will reward their attention. 'Virtuous.scr' is full of rhythmic ideas, evocative, textural sound design and also has an intriguing musical narrative – we're sure that willing listeners will enjoy the ride!
01 a.l.i.c.i.a
02 Anthracite
03 Overlay Network
04 Lung
05 Interlude Part II
06 Sneakers
07 Spirit Fabric
08 Prototype HA
09 Realization
10 65.222.202.53
11 Uncanny Valley
12 Yontoo How To Get Rid
13 Protocol/Domain/Application*
14 IoT Integration*
15 Prototype HA Remix*
*bonus digital exclusives at the Planet Mu store